View all news
'Negative' school sex education needs a revamp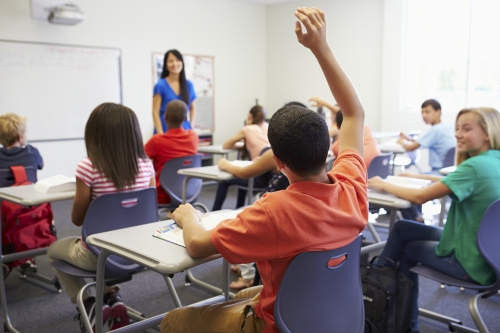 Press release issued: 12 September 2016
Sex and relationship education (SRE) is in need of an overhaul, according to research by the University of Bristol.
The wide-ranging study looked at how young people in 10 countries viewed their school-based SRE. It found schools appear reluctant to acknowledge that sex is a potent and potentially embarrassing topic, and attempt to teach it in the same way as other subjects.
The study, published in the BMJ Open, also found students frequently felt vulnerable in SRE lessons, with young women often risking harassment if they participate, and young men anxious to conceal sexual ignorance.
Dr Pandora Pound, from the School of Social and Community Medicine, led the research. She said: "It is clear from our findings that SRE provision in schools frequently fails to meet the needs of young people. Schools seem to have difficulty accepting some young people are sexually active, which leads to SRE that is out of touch with many young people's lives."
Young people also reported that SRE can be negative, gendered, and heterosexist, and that having it delivered by their own teachers frequently created problems including embarrassment, lack of anonymity and blurred boundaries.
Dr Pound said: "Despite SRE being a fundamental element of policies designed to safeguard young people and improve their sexual health, it does not have statutory status. In addition, government guidance in the UK is outdated, and nearly a third of UK schools have poor quality SRE.
"There are several steps that need to be taken to address this. SRE should be 'sex-positive' and delivered by specialists who can maintain clear boundaries with students.
"In addition, schools need to acknowledge that SRE is a special subject with unique challenges, as well as the fact and range of young people's sexual activity. Unless they do, young people may disengage from SRE and opportunities for safeguarding and improving their sexual health will be missed."
The research team examined 48 qualitative studies on young people's views of their school-based SRE from the UK, Ireland, the USA, Australia, New Zealand, Canada, Japan, Iran, Brazil and Sweden. The participants were students aged four to 19 in full-time education, young adults under 19 (not necessarily in full-time education), or adults under 25 if recalling their experiences of school-based SRE.
The study was funded by the NIHR School for Public Health Research.
Paper
'What do young people think about their school-based sex and relationship education? A qualitative synthesis of young people's views and experiences' by Pandora Pound, Beki Langford and Rona Campbell in BMJ Open.
Further information
The National Institute for Health Research (NIHR) is funded by the Department of Health to improve the health and wealth of the nation through research. The NIHR is the research arm of the NHS. Since its establishment in April 2006, the NIHR has transformed research in the NHS. It has increased the volume of applied health research for the benefit of patients and the public, driven faster translation of basic science discoveries into tangible benefits for patients and the economy, and developed and supported the people who conduct and contribute to applied health research. The NIHR plays a key role in the Government's strategy for economic growth, attracting investment by the life-sciences industries through its world-class infrastructure for health research. Together, the NIHR people, programmes, centres of excellence and systems represent the most integrated health research system in the world. For further information, visit the NIHR website.