View all news
Conserving Messel's magic for future generations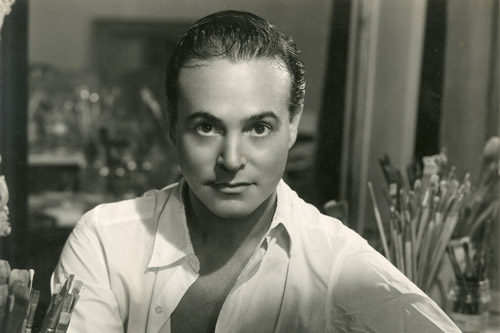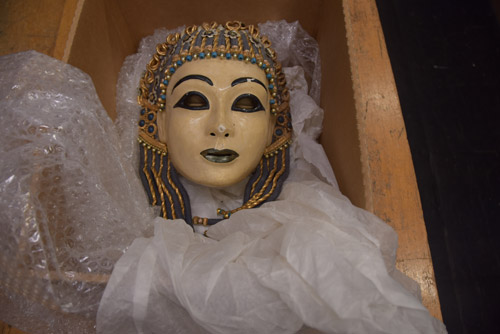 Press release issued: 8 September 2016
The University of Bristol Theatre Collection has received £73,000 from the Heritage Lottery Fund (HLF) to catalogue, conserve and ultimately make available to the public, the personal archive of one of the last century's foremost theatrical designers, Oliver Messel (1904-1978).
Some 75,000 items were acquired by the collection in 2015 following a grant from the National Heritage Memorial Fund (NHMF) and the whole project has been boosted by generous support from alumni, friends and charitable organisations.
Oliver Messel's career spanned the worlds of stage, film, opera, interior design, portraiture and architecture.
Born in 1904, he was one of the 'bright young things' in 1920s London and counted amongst his friends and colleagues the likes of Cecil Beaton and Rex Whistler.
He designed landmark stage productions including Sleeping Beauty (1946) and Ring around the Moon (1950) and costumes for many famous films including Romeo and Juliet (1936) and The Thief of Bagdad (1940).
He was art director for the film of Caesar and Cleopatra (1945) and was nominated for an Academy Award as production designer for Suddenly Last Summer (1959).
In 1964 he moved to Barbados where he embarked on a project to redesign and rebuild a small dilapidated house, applying his theatrical design skills to great effect. This was so successful that over the next 12 years, he designed 26 homes on the islands of Mustique and Barbados, including a residence owned by Princess Margaret.
The archive offers an unrivalled and very personal insight into Messel's incredible life. It includes photographs, sketchbooks, costume and set designs, stage, film and architectural plans and a selection of plaster casts, masks and costumes.
Also included are letters from many famous names including John Gielgud, Vivien Leigh and Michael Redgrave as well as photographs by Cecil Beaton, Norman Parkinson and Lord Snowdon.
The project will catalogue the entire archive in detail and digitise selected items, opening it up to a world-wide audience. The images will accompany an online catalogue and will be freely available for educational use.
A series of public workshops will be held to encourage engagement with the archive, and a small exhibition will be held in 2018 at the Theatre Collection.
The project will also include vital remedial conservation work to preserve the archive for the future.
This will include paper-based items currently too fragile to be used, and the objects and costumes within the archive will be conserved and have special housing constructed to enable safe storage.
The entire archive will be repackaged into acid-free archival materials ensuring its preservation for the future.
Jo Elsworth, Director of the University of Bristol Theatre Collection, said: "The Messel archive is immensely rich and forms a unique record of one of history's greatest theatre designers.
"The archive arrived with us contained in almost a hundred boxes, none of them sorted, so it has been an incredible experience for us to open and discover their fabulous contents.
"The next stage of the project is to catalogue and conserve the items and the generous grant from the Heritage Lottery Fund will enable us to carry out this important work.
"Once this is complete, the plan is to make the archive available to the public for the very first time."
The Oliver Messel Archive was originally bequeathed to the artist's nephew Thomas Messel and, until last year, remained in private hands. Messel's design collection – bequeathed to another nephew, Antony Armstrong-Jones, first Earl of Snowdon – has been housed in the Victoria and Albert Museum since 1981.
Thomas Messel, Oliver's nephew, said: "The Oliver Messel archives acquired by the University of Bristol Theatre Collection in 2015 comprise largely of works on paper, the most significant section being letters and photographs that date as far back as the 1920s.
"Up until now this important collection has been stored, largely unseen, in around 120 folders, loose rolls and storage boxes. Thus the task of disseminating, archiving and conserving these fragile papers is immense.
"The generous support of the Heritage Lottery Fund has made this next stage possible, in the course of which will no doubt reveal discoveries that have, until now, been concealed for many years.
"When this project is completed this material will at last become available as an essential resource for students and researchers into the life and work of Oliver Messel, as well as the related artistic, theatrical and social background of his epoch."
Nerys Watts, Head of HLF South West, said: "Oliver Messel was one of Britain's most celebrated designers and this archive provides a comprehensive insight into his creative process and his life as a 'bright young thing'.
"Thanks to National Lottery players, our grant will open up the never-before-seen magical archive to the public and we are delighted to be playing a role in making sure this remarkable man's story is better known to a much wider audience."
Thomas Messel will be giving a lecture on Tuesday, November 15 at 6.15pm about his uncle's life and work at the Wills Memorial Building as part of the University's autumn art lecture series. For more information and to book a place - click here.
Further information
The University of Bristol Theatre Collection would like to thank the organisations and individuals that have provided funding for this project. Generous support has also been received from The Linbury Trust, The Pilgrim Trust, National Manuscripts Conservation Trust and the Friends of the Theatre Collection.
About the University of Bristol Theatre Collection
The Theatre Collection is one of the world's largest archives of British theatre history and Live Art and is an accredited museum and international research facility open to all. Founded in 1951 to serve the first UK university drama department, its collections range from 1572 to the twenty-first century and its visitors include everyone from international scholars to family historians. We enable the Collection to be used for education, research, innovation, enjoyment and inspiration by all those who wish to do so.
About the Heritage Lottery Fund
Thanks to National Lottery players, we invest money to help people across the UK explore, enjoy and protect the heritage they care about - from the archaeology under our feet to the historic parks and buildings we love, from precious memories and collections to rare wildlife. www.hlf.org.uk @heritagelottery