View all news
Literary archaeology: what was it like to be enslaved?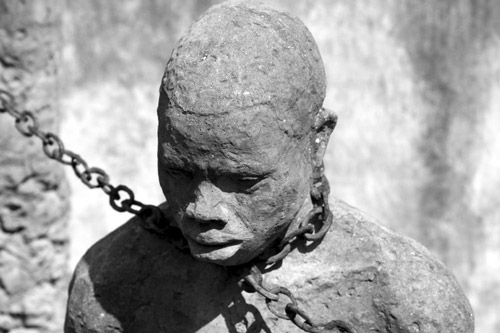 Press release issued: 5 September 2016
A new project led by the University of Bristol, is bringing together archaeological scientists, writers and literary scholars for the first time to uncover and create a uniquely personal perspective on what it was like to be enslaved.
Over the years both scientists and humanities scholars have attempted to understand this experience with archaeologists examining the physical human skeletal remains of the enslaved, uncovering details about the birth place, health, well-being and traumatic injuries sustained by the slaved.
In contrast, writers have combined existing historical information with their own imaginations to represent experiences of slavery.
Between the 16th and 19th centuries it is estimated that 12 million people were captured as slaves or sold into slavery in a trade that took them from their homes in Africa to plantations in the Americas.
This project aims to reconstruct the lives of the enslaved through new creative writing using archaeological and scientific evidence as a basis and inspiration.
Dr Josie Gill, Lecturer in black British writing of the 20th and 21st centuries at the University of Bristol's Department of English, is leading the project.
She said: "Despite having been much studied and debated, the slave trade continues to provoke intense academic and public interest because there is still so much we do not know about slavery.
"While historical documentation can tell us about the workings of the slave trade and the slave owners, we know very little about the everyday experience of slaves from their own perspective.
"While archaeologists' and writers' aims are similar, their methods are different.
"We aim to begin a dialogue between these groups, to explore how literary and archaeological narratives of slave lives might influence and inform one another to improve our understanding of what it was like to be a slave."
As part of the project a free public event has been organised at the M Shed in Bristol on Saturday, October 8 at 2pm during which a panel of experts will consider how, in the absence of written accounts, a group of contemporary writers have attempted to reconstruct the lives of slaves using archaeological evidence as a starting point.
The panel, which will include archaeological scientists, literary scholars and creative writers will consider what science can tell us about slavery, the value of fictional accounts of slave lives and how reconstructing these experiences impacts on our understanding of history.
The discussion will close with a reading of new work by two writers, especially written for the project.
The event is supported by the Arts and Humanities Research Council.
BSL interpretation is available if booked by September 16 – contact Josie Gill for more information.