View all news
New blue plaque commemorates revival of Ffestiniog Railway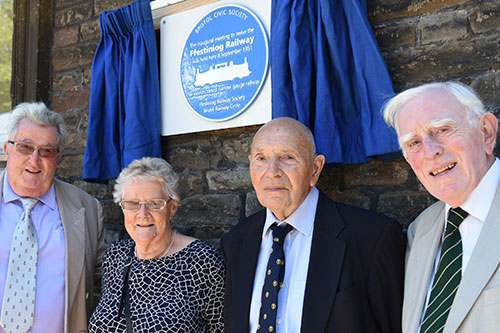 9 September 2016
A key event in the revival of the world-famous Ffestiniog Railway was commemorated yesterday [8 September] with the unveiling of a blue plaque on the University campus.
The plaque, at St Mary's House in Tyndall Park Road, a building that currently houses the University's Department of Theology and Religious Studies, marks the venue of a meeting – often called the 'Bristol Meeting' – that took place on 8 September 1951 to set up the organisation that started the railway's revival.
The plaque was unveiled by The Honourable Sir William McAlpine, Patron of the Ffestiniog Railway, President of the Transport Trust and founding Chairman of the Railway Heritage Trust. Two of the original 13 attendees were present at the unveiling, which was organised by the Ffestiniog Railway Society Bristol Group and the Bristol Civic Society.
The Ffestiniog, in the heart of Snowdonia, is one of the country's leading heritage railways and an important North Wales tourist destination. It was recently extensively featured in the BBC2 series Full Steam Ahead.