View all news
2015/16 Engagement Award winners announced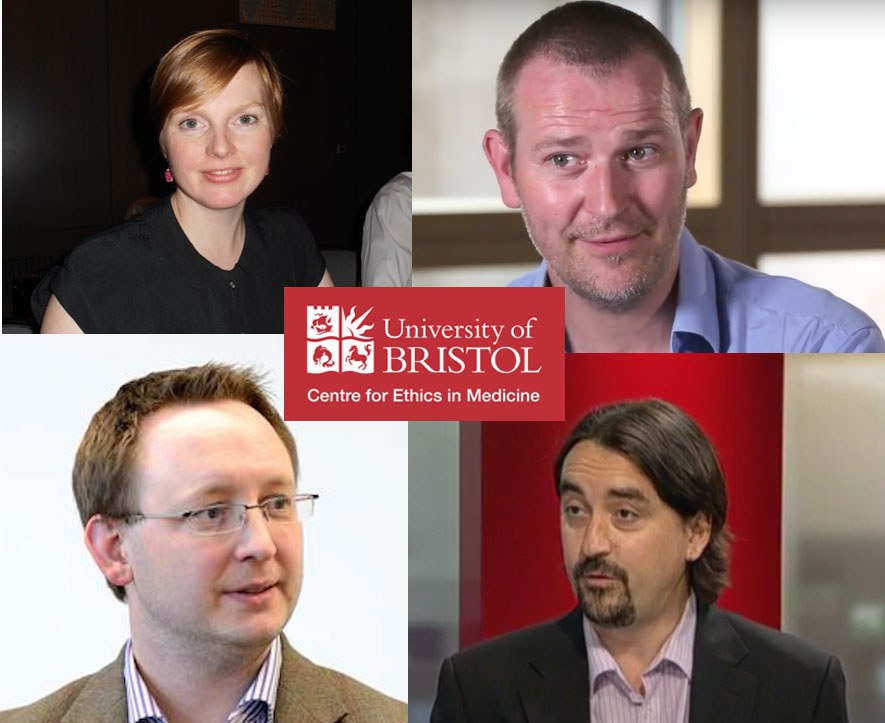 15 September 2016
The winners of the University of Bristol's 2015/16 Engagement Awards, judged by the Engaged University Steering Group, have been announced.
The annual competition is run by the University's Public Engagement team. Awards are given for outstanding achievement in engagement, and researchers at any stage of their careers may participate.
This year's main winners are Professor Richard Huxtable and his team at the Centre for Ethics in Medicine (School of Social and Community Medicine). Those highly commended were: Dr Dave Turk (School of Experimental Psychology) and Dr Emma Robinson (School of Physiology, Pharmacology and Neuroscience); Dr Madhu Krishnan (School of Humanities) and Dr Ruth Bush (School of Modern Languages); and Gaston Fornes (School of Sociology, Politics and International Relations) and Hannah Tweddell (Public Engagement team).
Professor Nishan Canagarajah, Pro Vice-Chancellor and Chair of the Engaged University Steering Group, said 'We had a number of outstanding applications to the Engagement Awards this year. It is inspiring to see the rich variety of engagement our academics and students are involved with, and the impact this has had on both the University's research and teaching, as well as wider society. I would like to congratulate Professor Huxtable and the Centre for Ethics in Medicine team on their achievement, as well as those highly commended by the panel.'
Professor Richard Huxtable and his team at the Centre for Ethics in Medicine (CEM) received the award for a three-year programme of public engagement activities around ethics and law at the end of life.
From a book on euthanasia targeted at a general readership to the 'Death: the human experience' exhibition at Bristol Museum and Art Gallery, the team engaged professionals and the public in meaningful conversation with the ethical and legal questions involved in death.
The learning went both ways: the team heard directly from the public to inform teaching and research, as well as making academic work in this area accessible to broad audiences.
Other activities included conferences, Pint of Science talks, At-Bristol workshops, lectures and a play, as well as social engagement across YouTube and Twitter. Their activities engaged academics, professionals, school pupils, and the general public, resulting in broad discussions of the subject matter.
Sarah Purdy, Associate Dean and Head of the School of Social and Community Medicine, said: 'CEM is a superb example of how a relatively small group can have a large impact on the local community, and stand at the forefront of public engagement activities with national reach and beyond.
'CEM's work is inspiring on many levels. The volume of its activity, especially relative to the number of staff, is immense, demonstrating a genuine commitment to communication and dissemination in public forums. It is collaborative – often involving co-design and co-production with its public and professional audiences – and as such its activities represent the gold standard in public engagement; "working with", rather than "dictating to".
'The variety and scope is noteworthy, reaching a wide spectrum of ages and demographics through activities that range from delivering bespoke workshops to schoolchildren, to collaborating on plays and museum exhibitions and chairing public debates. Lastly, and perhaps most impressively, all this has been done whilst communicating about a subject that is controversial and emotive.'
You can watch a film about the project on YouTube.
Highly commended
Dr Dave Turk and Dr Emma Robinson were highly commended for their work on the Bristol Neuroscience Festival which was attended by over 2,500 people this year, including a range of organisations from the city, and reached a diverse audience from primary school children to policy makers.
The judging panel commended the evaluation process used to assess the level of engagement of those attending the festival as well as the development of curriculum modules on 'Communicating Science' which used the festival as space for students to put into practice what they were learning.
Dr Madhu Krishnan and Dr Ruth Bush were highly commended for their engaged research, teaching African and postcolonial diasporic literatures to much wider audiences, both here in Bristol and beyond through a series of exciting and innovative events including Jamaica Rising in Bristol and a Writivism workshop in Kampala.
The judging panel commended the global reach of this project, the focus on diversity, and the exciting range of activities stemming from research, which included genuine dialogue and co-production.
Hannah Tweddell and Dr Gaston Fornes were highly commended for their engaged learning project in the School for Sociology, Politics and International Studies that has given students the opportunity to work with community partners on real-world problems as part of their studies.
The judging panel felt this was a great example of engagement built into the curriculum with clear local impact and benefits to students with real scope for sharing this learning with other colleagues across the University.
Further information
The Awards will be presented today [Thursday 15 September] at the Engage Conference and at the Enterprise Dinner in November.
For more information, please contact the Centre for Public Engagement at cpe-info@bristol.ac.uk.