View all news
Taster course helps local students get 'access to Bristol'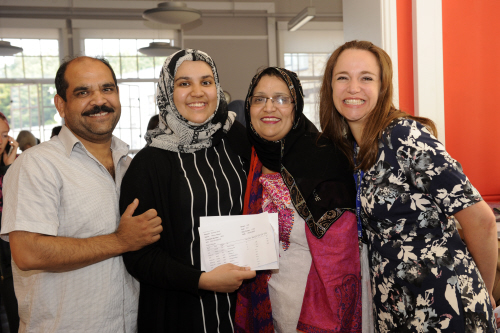 Press release issued: 20 September 2016
The University of Bristol will be welcoming over 23,000 students to the city over the next week as the new academic year begins.
Hundreds of students from the Bristol area are among the 8,000 new undergraduate and postgraduate students who will be enjoying Welcome Week, which runs from 19 to 23 September.
A small cohort have achieved their place at the University through a unique scheme which targets pupils who might not otherwise consider going onto higher education or are from families who don't have a history of attending university.
Sixty-seven students successfully secured their place through the Access to Bristol course, designed to give them an idea of what it's like to study at university.
The experience has helped hundreds of other participants secure places at leading universities across the country.
Among the 67 Access to Bristol graduates is Nimra Naeem, from Eastville, who achieved four A*s and will now study Medicine. She collected her results at Colston's Girls' School on her 18th birthday and will be the first in her family to go to university.
Nimra said: "Access to Bristol was super helpful. I learnt so much about the University and really fell in love with it. Everyone was so helpful and friendly.
"I got help with my application to get into medical school which was invaluable. I'm really thankful that such a scheme exists as it removes some of the fear about leaving school and starting university."
Access to Bristol requires pupils to attend a series of sessions over the course of a year, these provide advice on how to write a good university application and help to prepare them for the challenges of university life, such as managing their finances.
It also gave participants special access to the University of Bristol's academic expertise, an opportunity to try out facilities and also to work with current students.
Lucy Collins, Head of UK Student Recruitment at the University of Bristol, said: "We're committed to reaching students in the local community who have the academic abilities to benefit from an education here at the University of Bristol, and Access to Bristol has proved to be a really successful initiative.
"It's fantastic to see the next cohort of Access to Bristol students begin their studies with us, and we hope they continue to enjoy their educational journey here."
Applications for the 2016/17 scheme, which had 1,200 applicants last year, are open until 23 September and 650 places are available. It's aimed at high-achieving students, mostly aged 16 to 18, from state schools and colleges within an hour's journey from the University.
Further information on Access to Bristol is available on the University of Bristol's website.