View all news
Creating the next generation of innovators and entrepreneurs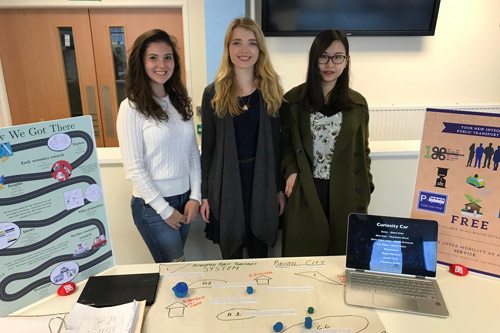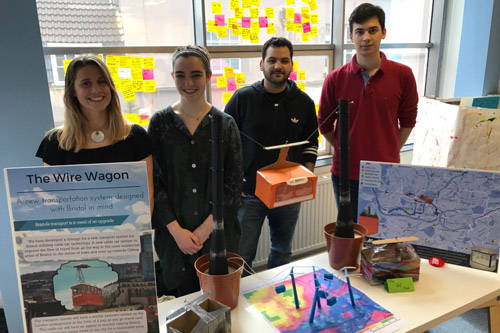 Press release issued: 5 May 2017
A cable car for Bristol, interactive entertainment at bus stops and creating designs for the interiors of driverless cars to encourage engagement and trust are just some of the ideas innovation students from the University of Bristol have come up with as part of their new course.
Launched in September 2016, the Bristol Innovation Courses are the first of their kind in the UK to merge traditional subjects with the opportunity to learn how to become an entrepreneur and innovator.
Specifically designed after 30 percent of students said that they would like to start their own enterprise after leaving university, the programme allows undergraduates to choose one of 11 core academic subjects to study, such as history, music or geography, while working together with other innovation students from different disciplines and industry partners to learn about how to innovate, develop and plan their own business venture.
The course, which is taught across four years, leads to a masters' qualification and students have the opportunity to create their own enterprise in the final year after immersive training in design, innovation and entrepreneurship.
The students and staff are based in a new University studio-based teaching environment and start-up incubator . This allows the students to work in teams, alongside specialists from industry to create products and services that build on the city and the University's expertise and experience.
In addition to being multidisciplinary, our first cohort of students represents 13 different countries including: Angola, Brazil, China, Cyprus, Egypt, Greece, India, Romania, Saudi Arabia, Singapore, South Africa, Spain and the United States.
Yesterday, as they came to the end of their first year, the 55 students, working in groups were tasked with pitching their ideas, all based around making transport better in Bristol.
After mapping potential opportunities around the topic, the class settled on 10 different angles on the theme. These served as the starting point for their innovation challenge. Around these, teams formed and set to work on project planning.
Armed with the knowledge gained in first semester, teams were given freedom to plan their projects using the Centre's four-step process for problem solving and innovation as a framework to stay grounded when working through complex challenges.
Class time included short lectures for inspiration and guidance on tools and methods as well as time for teamwork and personalized support from the teaching team.
Student Emma Willson is studying Psychology with Innovation and was part of the group who designed plans for the 'wire wagon' – a new transport system utilising cable car technology.
She said: "I have absolutely loved the first year of my course. I wanted to study a subject that was diverse as well as creative and be part of a team. The innovation course does all this. The teaching is motivating and challenging, covering a wide range of areas."
Ruth Bannister is studying History with Innovation and used her business experience in arts accessories to come up with an arts bus with her fellow students.
She said: "For me, just doing a history degree was not creative enough which why I was attracted to the innovation course which was perfect for what I was looking for.
"It is a completely different course, working with innovators and entrepreneurs from the business sector is inspiring – you wouldn't get that anywhere else."
Academic Director for the Innovation Courses, Dr Kirsten Cater, said: "Building on the UK's immense strengths in design and innovation, we want to educate the next generation to create innovative solutions to enrich our lives in the future and make a positive difference in the world.
"We've created an amazing environment where students from different academic backgrounds, with different knowledge and expertise, can work in teams across disciplines to create new ideas and ventures together.
"This new programme is responding to a clear demand from our students, many of who want to run their own business in the future.
"My colleagues and I are thrilled with how successful the first year has gone and we're looking forward to seeing the course develop and expand over the coming years."
Notable alumni who have founded successful companies include Mark Ellingham and Natalie Jansz, the creators of Rough Guides, Edd Read who set up Graze and Will Dean who co-founded the 'Tough Mudder' mud running events.
Digital entrepreneur Robin Brattel, who has set up four successful companies, is one of innovators who has been working with students to share his expertise. He said: "It is important that people like me can be involved to help young entrepreneurs to give them the confidence to become successful and brilliant.
"The world is changing so rapidly and the next generation of innovators and entrepreneurs have to embrace this fast-changing and often turbulent environment to create and develop products and services. This course provides the foundations to enable them to do just that."