View all news
University musicians revive lost Cleopatra cantata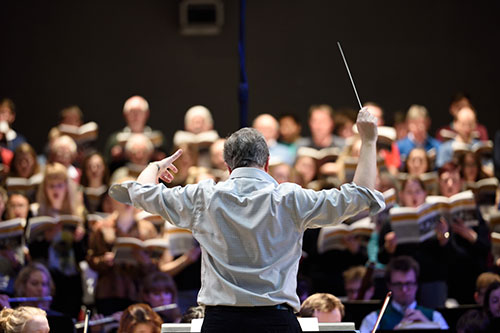 Press release issued: 10 March 2016
The Vision of Cleopatra, a piece of choral music unheard in over a hundred years, will be performed by the University of Bristol's student choral society and symphony orchestra this Saturday [March 12]. The full score of the cantata, which was lost in the London Blitz, has been reconstructed by Professor John Pickard in Bristol's Department of Music.
The 40-minute cantata by British composer Havergal Brian (1876-1972) successfully premiered in 1909 but was never played again. In 1941 the publishers of the music were bombed during the London Blitz and the full score and only set of parts were destroyed. Only the printed vocal score, in which the orchestra part is reduced to two piano staves, survives.
Following a request from the Havergal Brian Society to reconstruct the piece, Professor Pickard has orchestrated the entire work in the style of the composer and will conduct its first performance in 107 years on Saturday 12 March at the Victoria Rooms.
The Vision of Cleopatra dates from 1907 and is Brian's most ambitious work from a period in which he began to establish himself as one of the major British composers of his generation. At this time his music was championed by the likes of Thomas Beecham and Henry Wood and aroused the admiration of Elgar.
The cantata was composed for and anonymously submitted to a competition run by the 1908 Norwich Festival. The brief for all the entrants was to set the same specially written text: an exotic and highly original retelling of the Antony and Cleopatra story by librettist, Gerald Cumberland. Although the first prize went to another composer (Julius Harrison), the judges created a special second prize of similar monetary value and gave it to Brian, together with the promise of a performance.
The Vision of Cleopatra was first played at the 1909 Southport Festival, with contemporary critical response emphasising the work's modernity and complexity. However, the work's self-conscious modernism, the erotic elements of the libretto (parts of which had to be bowdlerised) and the music's 'oriental' atmosphere may have contributed to its disappearance so soon after its première.
Professor Pickard said: "The Vision of Cleopatra is a substantial and ambitious work which sadly faded from public consciousness, along with a great deal of other British music from the period. It is my hope that this reconstruction might offer at least a partial glimpse of a fascinating, and in many ways quite startling, piece of early English modernism."
Bristol University Choral Society and Symphony Orchestra, Saturday 12 March 2016, 7.30pm-9.30pm, Victoria Rooms
Beethoven, Mass in C
Havergal Brian, The Vision of Cleopatra (orch. John Pickard)
John Pickard, conductor; Eve Daniell, soprano; Rachael Cox, mezzo-soprano; Angharad Lyddon, alto; Jeffrey Lloyd-Roberts, tenor; Alexander Learmonth, baritone
Sponsored by the Havergal Brian Society
Tickets: balcony £15/£10 concs; stalls £10/£7 concs available from shop.bris.ac.uk