View all news
Partnership sounds sweet note of success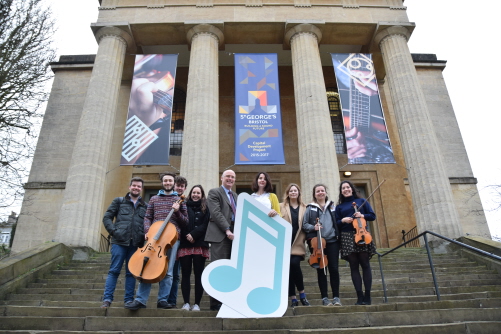 Press release issued: 9 March 2016
A performance venue and a leading academic institution have formally announced a partnership which boosts learning and music in Bristol.
St George's Bristol and the University of Bristol have joined forces to benefit the city's musical landscape and its students.
It is the first development of its kind for both organisations, offering additional space for teaching and allowing the breadth of performances on offer at St George's to reach new audiences.
The official announcement, at St George's Bristol, is supported by student members of the Bristol University Music Society (BUMS) who regularly play at St George's.
The partnership agreement includes students using St George's Main Hall during term time for lectures and examinations. The requirement for additional space follows the increase in student numbers at the University, thanks to its continued success and ranking as one of the top 40 universities in the world.
As part of the relationship students are offered £5 tickets for world-class performances ranging from orchestras and classical soloists, to jazz, blues, folk and world – part of St George's bid to extend its audiences. St George's is also giving discounts on tickets to University staff members.
And the Bristol University Music Society performs annually at St George's Bristol, with its last performance on Monday, and a programme featuring Schubert and the winner of the University's concerto competition.
The strategic partnership comes as St George's Bristol goes forward with its ambitious project to build a pavilion-style extension with new spaces for a café bar, performances and education workshops.
Chief Executive of St George's Bristol Suzanne Rolt commented: "We are delighted to announce this partnership between St George's and the University of Bristol.
"It provides strategic and tangible benefits for both parties and the wider city, and is one which we are working to develop further."
She added: "Partnership working offers exciting new opportunities, and helps us to safeguard our historic building and most importantly to stage some of the world's very best musicians, alongside Bristol's talented amateur orchestras, choirs and soloists."
Professor Nick Lieven, Pro Vice-Chancellor of the University of Bristol, said: "We know our music students love performing in St George's and it's exciting to be building on our relationship with them, which we hope will ultimately benefit the city's musical landscape."
Christabell Pidduck, final year music student at the Bristol University Music Society and Concert Administrator of the Bristol University Music Society, commented: "This is a wonderful initiative between the University of Bristol and St George's Bristol, and we are delighted to be supporting the official announcement.
"The Music Society has the fantastic opportunity to perform at St George's every year, as part of our remit to create a warm and welcoming environment for a variety of musical activities to thrive."
Further information
St George's Bristol
St George's Bristol is one of the country's leading concert halls and recording studios. It boasts a superb acoustic and unique atmosphere which attracts the world's best artists. A full and vibrant programme, with over 200 events each year, makes it an incredibly popular and important venue for all kinds of music (classical, jazz, blues, folk, world music, spoken word, comedy and book talks, and family and children's concerts).
In addition to hosting the best live music from around the world, its Education Programme and Outreach Projects bring thousands of children to the venue to participate in workshops, to stage their own performances and to watch artists rehearse and perform, and takes musicians into schools and the community for workshops and interactive concerts. St George's Bristol is currently raising funds for a major capital appeal – 'Building a Sound Future' will secure St George's future as a world-class performance venue, transforming the visitor experience, with a bold new extension designed by award-winning architects Patel Taylor. St George's Bristol is also available to hire for corporate and private events including weddings, conferencing, sound recordings and filming.