View all news
Roboteers get ready - Robot Wars comes to Bristol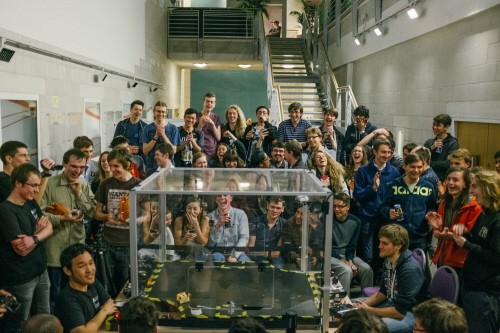 Press release issued: 4 March 2016
Machines will be in a spin this weekend, when the University of Bristol's Bristol Electrical and Electronic Engineering Society (BEEES) hosts a Robot Wars style event.
The fourth Robot Wars competition will take place tomorrow [5 March] and the event, supported by the Faculty of Engineering, is open to any student.
Students, in teams of up to five and from any course, can enter and fight to destruction for a chance to be named BEEES Robot Wars Champion.
Teams who enter the competition should design a robot that fits inside a four-inch cube, weighs less than 150 grams and that is able to destroy its competitors. To ensure fair play, all robots that are entered will be weighed and measured.
Adam Catley, Vice President of BEEES, said: "If you enjoy the metal crunching carnage of robots smashing each other to pieces, then Robot Wars is the event for you whether you wish to compete or spectate. The competition is also a great way for students' to develop their understanding of construction, electronics and robotics."
There will be a cash prize for the winning team and their names will be engraved on the Robot Wars trophy. A second prize of four tickets to the filming of the new BBC Two Robot Wars show can be won by anyone who attends the event, either as a spectator or in a team.
Robot Wars 2016, which will take place in the Merchant Venturers School of Engineering, Woodland Road, Bristol, is free to enter and refreshments will be provided during the event, which starts at 5pm.
The previous Robot Wars competition was held last December. Twenty-seven robots took part and over 120 people came to watch the event. A video highlighting December's battles is available on YouTube.
Further information
About BEEES
The Bristol Electrical and Electronic Engineering Society (BEEES) is the University of Bristol's student society for electrical and electronic engineering.