View all news
Special ambassador award for Professor Joe McGeehan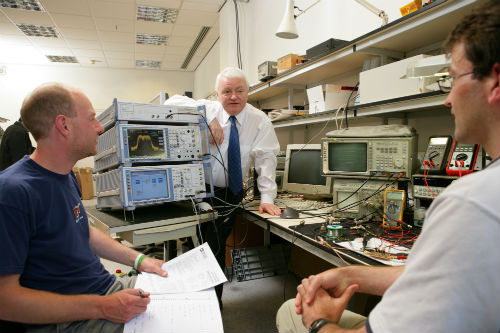 1 March 2016
Professor Joe McGeehan from the University of Bristol has been recognised for his long-standing contribution to Bristol's technology sectors with a Special Ambassador Award at the inaugural Edge Awards 2016.
Professor McGeehan founded the Toshiba Telecommunications Research Laboratory in Bristol in 1998, as well as leading the internationally renowned Centre for Communications Research (CCR) at the University as its director. As a business member of the West of England Local Enterprise Partnership (LEP), he went on to establish and chair the inward investment agency Invest Bristol & Bath (IBB). Formerly a professor in the Department of Electrical and Electric Engineering, Professor McGeehan is now Emeritus Professor and advises the University on its engagement with the private sector.
"I am delighted to receive this award," said Professor McGeehan. "It's been fascinating to work in both industry and academia, and bringing these worlds together to benefit Bristol's high technology sectors is a very exciting area in which to be involved."
The inaugural Edge Awards, Excellence in Design, Gadgetry and Entrepreneurship present some of the South West's most remarkable inventions, ideas and businesses, celebrating technology and digital expertise in the region. The awards were run by the Bristol Post, which itself has a growing digital audience of over 4 million unique visitors to its website, and the University of the West of England (UWE).
The Emerging Technology Prize was won by University of Bristol spin-out company Ultrahaptics, which develops touchless control technology that provides a sensation of feeling.
Further information
Read more about Bristol Post's Edge Awards 2016 and University spinout company, Ultrahaptics.