View all news
New learning centre for young people launches in South Bristol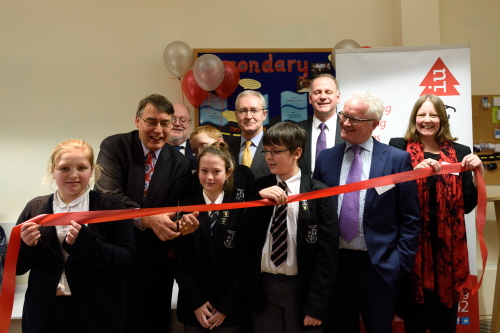 Press release issued: 2 March 2016
A new learning centre which will support hundreds of children and young people in the Hartcliffe area of South Bristol to achieve a university place was launched yesterday [1 March].
IntoUniversity Bristol South, a new education project run by national education charity IntoUniversity in partnership with the University of Bristol, the University of Bath and the University of Exeter, was formally opened by Professor Les Ebdon, Director of Fair Access to Higher Education.
IntoUniversity Bristol South is one of a network of 21 learning centres across the UK run by IntoUniversity, and is the organisation's second centre in Bristol.
The centre began working with local young people in autumn 2015 and is providing children across Hartcliffe and the surrounding areas with long-term access to IntoUniversity's award-winning programme of after-school academic support, mentoring and aspiration-raising programmes.
Students from the Universities of Bristol, Bath and Exeter are supporting the project by volunteering with the young people using the centre.
Professor Hugh Brady, Vice-Chancellor and President of the University of Bristol, said: "The learning centres run by IntoUniversity are a huge success story and we're really pleased to support a second one in Bristol. With the input of our students and staff, we're looking forward to providing academic support and inspiration for school students in the heart of their own community."
School pupils aged 10 to17 have the opportunity to join a mentoring programme in which they're paired with a university student who provides help with school work, social skills, and confidence-building.
The mentors act as role models who have already made it to university, and encourage the young people to think about their futures and raise their aspirations.
Professor Les Ebdon, Director of Fair Access to Higher Education, said: "I am delighted to be able to open IntoUniversity Bristol South. Higher education transforms lives, and this new project will help to raise aspirations and attainment for people from Hartcliffe and the surrounding areas.
"More young people from the kind of estate that I grew up on enter full-time higher education now than ever before. But too many talented people are still being held back by not being encouraged enough and are therefore missing the chance to get to university.
"I am confident that this new project will make a real, lasting difference to people in Bristol South, supporting people from this area to make sure that their ability, rather than their postcode, determines how they will get on in life."
Primary and secondary students are invited to come down to the centre for academic support, receiving after-school help with homework, coursework, literacy and numeracy from trained tutors.
The centres also offer one-to-one support with GCSE, AS Level, A2 Level and degree options, coursework, revision, exam techniques, UCAS forms, interview techniques and gap years.
Dr Rachel Carr OBE, Chief Executive and Co-Founder of IntoUniversity, said: "IntoUniversity has been supporting the aspirations of young people in East Bristol since 2012 and we are now delighted to have the opportunity to bring our programme to young people living in the south of the city with the support of our university partners.
"IntoUniversity starts working with children at primary school to show them that a university education is within their reach, and we support them all the way up to the university application process. We look forward to working with hundreds of young people across Hartcliffe and beyond in the years to come."