View all news
New book explores conflict landscapes from above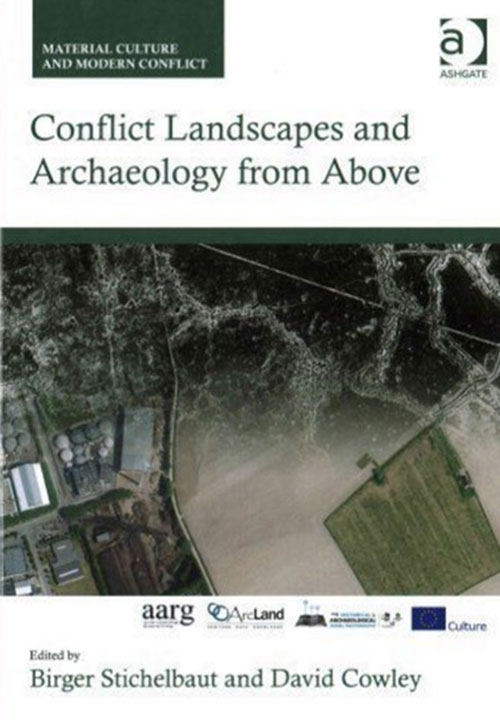 Press release issued: 9 March 2016
The first book in a new series on material culture and modern conflict, co-edited by Professor Nicholas Saunders of the University of Bristol's Department of Archaeology and Anthropology, will be published this week.
Conflict Landscapes and Archaeology from Above,edited by Birger Stichelbaut and David Cowley, reflects how the study of conflict archaeology has developed rapidly over the last decade, fuelled by technological advances and creative analytical frameworks.
Traditional sources such as historical photographs and maps can now be combined with 3D digital topographic data from Airborne Laser Scanning (ALS) and large scale geophysical prospection. For twentieth-century conflict landscapes and their surviving archaeological remains, these developments have encouraged a shift from a site-oriented approach towards landscape-scaled research.
The volumeincludes essays from a range of disciplines (archaeology, history, geography, heritage and museum studies), each drawing on aerial and landscape perspectives.
Organized in four parts, the first three sections take a broadly chronological approach, exploring the use of aerial evidence to expand our understanding of the two World Wars and the Cold War. The final section explores ways that the aerial perspective can be used to represent historical landscapes to a wide audience.
With case studies ranging from the Western Front to the Cold War, Ireland to Russia, the book demonstrates how an aerial perspective can both support and challenge traditional archaeological and historical analysis, providing an innovative new means of engaging with the material culture of conflict and commemoration.
The book is the first in a series 'Material Culture and Modern Conflict', edited by Bristol's Nicholas Saunders and Paul Cornish of the Imperial War Museum, London.
The series adopts a genuinely interdisciplinary approach to re-appraise the material legacy of twentieth and twenty-first century conflict around the world. It offers a radical departure in the study of modern conflict, proving a truly interdisciplinary forum that draws upon archaeology, anthropology, military and cultural history, art history, cultural geography, and museum and heritage studies.
Professor Saunders said: "The complexity of modern conflict demands a hybrid approach which calls on different disciplines where they overlap in a shared common terrain: that of the materiality of conflict and its aftermath.
"This approach has extraordinary potential to bring together the diverse interests and expertise of a host of disciplines to create a new intellectual engagement with the understanding of conflict."
Conflict Landscapes and Archaeology from Above,edited by Birger Stichelbaut and David Cowley is published by Ashgate-Routledge £65