View all news
Downing Street award for record-breaking rower and fundraiser Callum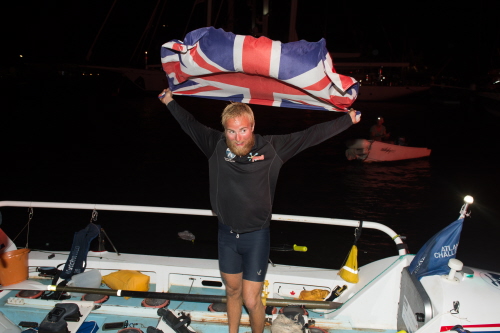 Press release issued: 4 March 2016
Prime Minister David Cameron has praised a University of Bristol student who recently broke the record for the youngest person to row solo across the Atlantic, awarding him a special award for his incredible achievement.
Callum Gathercole, 20, sailed into the record books after rowing more than 3,000 miles across the world's second largest ocean – a challenge that took 58 days.
He overcame tropical storms, 40ft waves, sleep deprivation, seasickness and excruciating body sores to complete the challenge and is on course to raise £250,000 in memory of his father Clive who died from a brain tumour in 2012.
To top off his achievements, Callum has today [4 March] been awarded a Points of Light award by Downing Street, an accolade awarded daily to recognise outstanding individual volunteers who are making a change in their community.
Prime Minister David Cameron said: "I want to congratulate Callum on his Guinness World Record and on all that he has done in his father's memory. He has raised a fantastic amount of money to support others who are terminally ill and to help fund vital medical research. I am delighted to recognise Callum for his service to others by making him the UK's 485th Point of Light."
The Talisker Whiskey Atlantic Challenge - dubbed the 'world's toughest endurance race' - began in the Canary Islands on 20 December and finished 3,000 nautical miles away in Antigua.
Spurring Callum on was the thought of raising money in memory of his father. The final amount raised will be split between Brain Tumour Research, the Princess Alice Hospice and BRACE Alzheimer's Research.
Reacting to news of the Points of Light award, Callum said: "Thank you so much for this honour, it's completely unexpected! Throughout this campaign, I have had a massive support and fund-raising team who have made the row possible. This award is shared with all of them, as I certainly wouldn't have made it to Antigua without them."
Callum has been rowing since the age of nine and is part of the University of Bristol Boat Club, recently completing a 100,000 metre row in just seven hours to create a new under-19s lightweight world record.
He's taken a year off from his Aerospace Engineering degree to focus on the challenge.
Read more about Callum's record-breaking row.