View all news
Brian Pritchard Jones, 1929-2015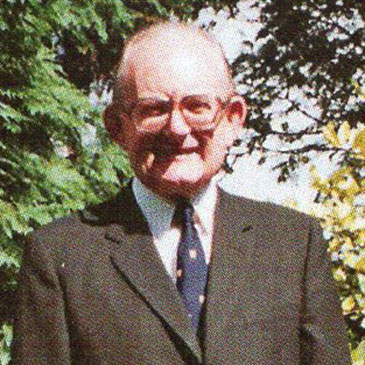 3 March 2016
Brian Jones, who was the University Sub-Librarian with responsibility for the libraries of the Medical, Dental and Veterinary Schools until his retirement in 1989, has died aged 86. This memorial is written by Alexa and Alison Jones, together with former and current Library staff.
Born on the island of Anglesey, where his father was the local village schoolmaster, Brian had two brothers, both of whom sadly pre-deceased him. After attending the local village school and the Friars School in Bangor, he went on to earn a BA in French at Bangor University. After some years of postgraduate study at the Sorbonne in Paris, he returned to the UK, and National Service. The army recognised Brian's expertise in French by posting him to the Headquarters of the General Staff in Paris, where he acted as a liaison officer. Following this, he took up a position as a lecturer in French at the University of Leeds.
However, not feeling convinced that a lecturer's life was for him, and abandoning his PhD thesis on the influence of Henry Fielding in French literature, he sought advice from the Librarian at the public library in Leeds, and obtained a job in the reference library there. He then went on to take the postgraduate diploma in librarianship at University College London.
Afterwards, Brian was appointed a cataloguer in the Library of the University of Sheffield. At this time, in the early 1960s at Sheffield, there was a strong research interest in the librarianship of scientific information resources. This proved an attractive area to Brian, so he combined his teaching skills and his librarianship to provide specialist courses for scientists in this new discipline. While attending a course run by the National Lending Library at Boston Spa, to learn more, he met another delegate who was to become Brian's beloved wife, Alexa, who was working for the National Library of Scotland in Edinburgh. It was in Edinburgh that the couple were married in April 1965. Their first home together was back in Sheffield, and it was while there that their dear daughter Alison came into their lives. Later Brian would enjoy horse-riding with Alison and travel with the family. He also enjoyed his allotment in retirement.
Brian obtained his Fellowship of the Library Association in 1968, and in 1970 moved to Bristol, where he was appointed to run the University Medical Library. This had only been housed in the new Medical School since 1964, and Brian was ideally suited to develop it as a modern resource. Its origins were closely linked to the long history of medicine in Bristol. Its special collections were mostly formed from the libraries of the Bristol Royal Infirmary and the Bath United Hospitals, and in part donated by the Bristol Medico-Chirurgical Society. These collections were a jewel of the University Library.
As Medical Sub-Librarian (a role just below that of Deputy Librarian), Brian reported formally to a sub-committee of the University Library Committee. The Medical Library and its collections was acknowledged to be the best in the south west; it served not only the University's students, lecturers and researchers, but was also heavily used by doctors and consultants from the nearby BRI, Southmead and Frenchay hospitals, and beyond. Brian was instrumental in setting up long-standing liaison committees with NHS hospital library staff. In 1974, the Dental Library became a sub-branch of the Medical Library, and in 1984 it moved from its location in the old Dental Hospital to a purpose-built area within the new wing. Brian was responsible for its layout, from short loan collection shelving units to seating and study carrels.
Brian was also the Honorary Librarian for the Bristol Medico-Chirurgical Society, whose members were frequent visitors to the Medical Library. He is still warmly remembered by many whom he helped in their younger days. He and Alexa were invited to dinners and summer meetings of the Society and to the annual Long Fox Memorial Lecture. In this role he promoted medical history exhibitions in connection with the Society's regular talks and with meetings of the Bristol Medical History Society. He was also invited to the annual Jenner Dinners in Berkeley, held each year in memory of Edward Jenner, the originator of vaccination.
As the years passed, there was an increasing dichotomy in the demands made upon Brian. On the one hand, the Medical Library was at the forefront of developments in information retrieval. It was largely Brian who persuaded the medics (and engineers and scientists) that they should subscribe to the print version of Science Citation Index, when this search technique was viewed with suspicion. (Its popularity grew as individuals realised they could see who was quoting their publications!) He and his staff also introduced mediated online searches: firstly on Medlars, using a computer in the Arts and Social Sciences Library, and then on Medline, via a computer in the Medical Library. In the 1980s, medical-related online searches regularly accounted for two thirds of such activity in the Library as a whole. This was before there were library computers anywhere, except to run the automated lending and cataloguing systems. But at the same time, nearly every day brought a visit from a retired GP or surgeon or a current professor who was interested in consulting the early literature and discussing his (much less often her) research in Brian's office.
Brian Jones was a hard-working and dedicated librarian, well respected by his colleagues, staff and users. Dr Higham, the Librarian at the time of Brian's retirement, reported that he had 'devoted himself to the service of the Medical School, and gave all possible assistance to the hospitals and general medical practitioners in the area'. Brian is remembered as a kind and helpful man, whose staff enjoyed working with him and appreciated his keen intellect – and keen appreciation of the absurd. He was something of a raconteur and would tell a good tale (usually funny and often at his own expense). He was a man of great integrity, who treated all people equally, and who was glad to have spent his last career position in a rewarding job where he felt he had 'made a difference'.