View all news
University to celebrate the achievements in women in engineering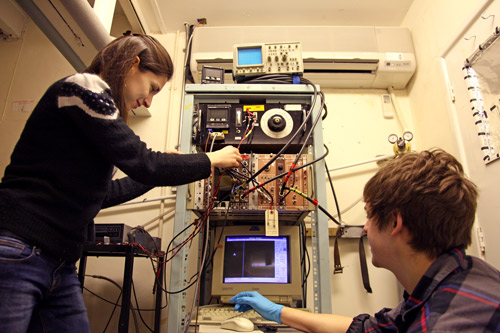 Press release issued: 23 June 2016
Forty secondary school students will be at the University of Bristol today [Thursday 23 June] building coding machines to send secret messages to celebrate National Women in Engineering Day (NWED).
Students attending NWED will be challenged to build a coding machine, devise codes and the final task will be to put everything together to send messages within their team.
The event, based on the work of Joan Clarke, has been organised by PhD student Katie Winkle, who completed her undergraduate degree in mechanical engineering at Bristol and is now studying for a PhD in Robotics and Autonomous Systems at the Bristol Robotics Laboratory.
Female and male Year 8 and 9 students, who have a strong interest in maths and science, will be attending the day from seven local state schools.
There will also be presentations from Katie and her colleagues about women in engineering, to inspire and encourage women to study engineering.
Adele Ruston, Widening Participation and Undergraduate Recruitment Officer, said: "National Women in Engineering Day has been created to celebrate the achievements of women in engineering. The day will provide an overview of what it might be like to work or study in engineering, allowing students to work in teams to solve an engineering challenge.
"The day will also include further information about routes into engineering that students can take and how engineering has developed as a subject discipline."
Students from Colstons Girls School; Wellsway School; Redland Green School; Somervale School; Oasis Academy John Williams; Bristol Cathedral Choir School and Cotham School will take part in the day.
Further information
About National Women in Engineering Day
National Women in Engineering Day (#NWED2016) is now an International awareness campaign to raise the profile of women in engineering and focus attention on the amazing career opportunities available to girls in this exciting industry. It takes place annually on 23 June.