View all news
Bristol SU recognised with the Queen's Award for Voluntary Service for 2016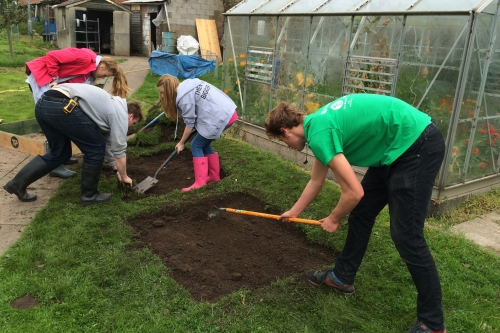 Press release issued: 2 June 2016
University of Bristol students who work in the community have been honoured with the Queen's Award for Voluntary Service.
The University of Bristol Students' Union (Bristol SU) is one of 193 charities, social enterprises and voluntary groups to receive the prestigious award this year. It is the only Students' Union to receive the award: a testament to more than 60 years of contributions to the Bristol community.
Thirty-nine per cent of students at Bristol gave time to volunteering this year, with more than 100,000 hours given in total. Students volunteered on projects ranging from sustainability initiatives to work helping children with disabilities, young carers, adults with learning disabilities and isolated older people. These students are continuing the work of generations of Bristol students before them.
Bristol SU Chief Executive Samantha Budd said: "Students make such a valuable and sometimes unrecognised, contribution to the city, not only after they have graduated, but also through the time they give to the community alongside their studies. Our students give vast amounts of time to projects in the city of Bristol and beyond, and we are so pleased that this contribution has been recognised."
The Queen's Award for Voluntary Service is the highest award given to local volunteer groups across the UK to recognise outstanding work in their communities. The awards were created in 2002 to celebrate the Queen's Golden Jubilee, and winners are announced each year on 2 June – the anniversary of the Queen's Coronation.
Samantha Budd and Undergraduate Education Officer Max Austin attended a garden party at Buckingham Palace earlier this month, where they were presented to HM the Queen and other winners of this year's award. Bristol SU will receive the award from the Lord Lieutenant of Bristol at its Annual Welcome Fair on 23rd September.
Professor Hugh Brady, Vice-Chancellor of the University of Bristol, said: "Voluntary work is hugely helpful to society, and Bristol SU's volunteers have done fantastic work in the city, helping a wide cross-section of people. This award is well-deserved, and I send all those involved my warmest congratulations."
Max Austin, Undergraduate Education Officer, added: "It is extremely rare for an organisation like a students' union to receive an award like this – especially given the huge competition. It is testament to the quality of our students' volunteering contributions in and around Bristol that they, through their Students' Union, have been recognised this way. We are extremely proud of everything Bristol students continue to contribute towards the wider community."
The Queen's Award for Voluntary Service Committee Chair, former broadcast journalist Sir Martyn Lewis, said: "I warmly congratulate all of the inspirational voluntary groups who have been rewarded for their community work with a Queen's Award for Voluntary Service. The judging panel for this year's awards were struck by the quality and breadth of all the successful groups.
"The thousands of volunteers who give up spare time to help others in their community and to help solve problems demonstrate the very best of democracy in action."
Further information
1. Lord Lieutenants are the monarch's representatives in their lieutenancy. There are 98 Lord Lieutenants covering the UK.
2. This year there were 193 winners of The Queen's Award Voluntary Service from across the UK. More information on the winners can be found at the London Gazette
3. Any group of two or more people that has participated in voluntary work for more than three years can be nominated for the award. Full details on how to nominate are available on the Queen's Award for Voluntary Service website
4. Nominations for the 2017 awards close on 16 September 2016 and should be made online