View all news
Bristol's Jewish and Muslim history to take centre stage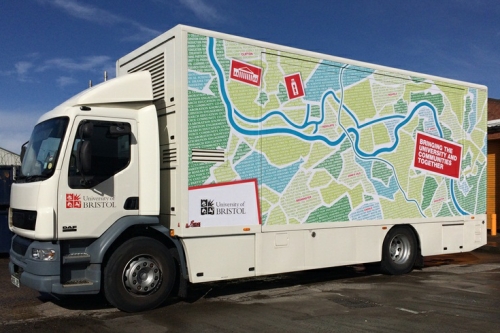 7 June 2016
An event to put the Muslim and Jewish history of Bristol on the map is taking place in Barton Hill next week (12 and 13 June).
The University of Bristol's Know Your Bristol project is collaborating with Barton Hill Settlement in Lawrence Hill and Salaam Shalom, a Bristol project that aims to bring about dialogue through education, arts and media.
In 2012, the University of Bristol created a digital map of the city, and began adding community histories, creating a people's map of Bristol. The next stage of the project is to add the stories of Bristol's Muslim and Jewish communities to the map.
The Know Your Bristol bus – kitted out with recording and digitising equipment – will visit the Urban Park at the Barton Hill Settlement community centre on Sunday 12 June to hear people's stories.
Local organiser Kim Sherwood, said: "We want people to join us and add their memories of Bristol to the map. We're interested in hearing what Bristol was like when people first moved here or when they were growing up, or stories about the mosque or synagogue they attend.
"We'd also love to see any photographs people have of their community today or in the past. The university staff on the bus will be on hand to help people upload their histories, to create a lasting legacy of Muslim and Jewish Bristol."
On Monday 13 June at the Barton Hill Settlement, Dr Nick Nourse from the University's School of Humanities will be assisting a hands-on workshop to upload material to the web from home archives or a phone.
Know your Bristol is a collaborative project between the University of Bristol, Bristol City Council and several Bristol community groups. The project aims to enable people to explore, research and co-create Bristol history, heritage and culture using digital tools.
Further information
Know Your Bristol project will take place on Sunday 12 June from 10.30 am to 2.30 pm and Monday 13 June from 12 noon to 2 pm.
There is space for 15 participants at the hands-on workshop on Monday 13 June. Please contact Kim Sherwood if you would like to attend.