View all news
Start-up company Interactive Scientific wins award at SETsquared annual innovation showcase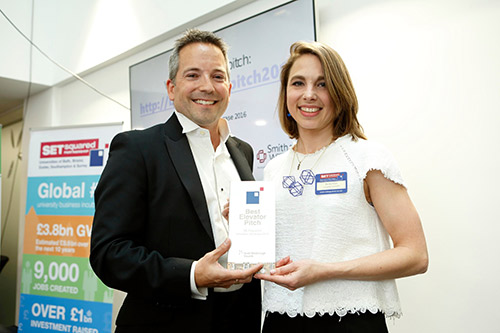 20 June 2016
Ten companies from SETsquared, the leading university business incubator, competed in an 'elevator pitch' to promote their businesses at the Annual Innovation Showcase on 15 June.
SETsquared company Interactive Scientific scooped the award for Best Elevator Pitch, thrilling the audience with their presentation about making simulations in the molecular nano-world using their Nano Simbox platorm.
Becky Sage, Managing Director of the winning venture, commented: "We are delighted to have been selected for the Best Elevator Pitch. We are currently fundraising, so the event has provided us with a great opportunity to raise awareness about our business."
Robin Geller, the Registrar of the University of Bristol, said: "We are in fast-changing times and we must keep abreast of and support new technologies as well as new business methods. The University is fully committed to innovation. Thriving as a tech cluster would not be possible without strong linkages and collaboration between the city, industry and academia."
The Innovation Showcase was sponsored by Veale Wasbrough Vizards, Barclays and Smith & Williamson, and kindly hosted at Veale Wasbrough Vizards' Bristol office. The showcase provided an invaluable opportunity for the region's high-tech, high-growth companies to network with potential investors, corporate partners and academics.
Further information
About SETsquared
SETsquared is a long-standing partnership between the universities of Bath, Bristol, Exeter, Southampton and Surrey which specialises in growing high-tech start-ups through its incubation programme and other business acceleration services. SETsquared provides mentoring, access to investors and corporate innovators and a wide range of industry experts through its network and training programmes.
Its business incubation programme is ranked by the University Business Incubator Index as the best in the world and over the last decade it has helped over 1,000 high-tech start-ups to develop and raise more than a £1bn of investment. Since last year's showcase the 65 SETsquared ventures have raised £33M of funding and created 200 new jobs, an increase of 40 per cent on the previous year.