View all news
Great George to chime in honour of The Queen's 90th birthday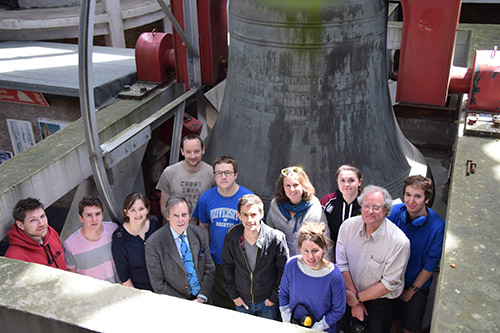 10 June 2016
Bristol's largest bell will ring out across the city on Saturday [11 June] as the University of Bristol marks the official 90th birthday of Her Majesty The Queen.
Great George – housed in the tower of the Wills Memorial Building - will ring for five minutes at 12noon.
Weighing in at 9.5 tonnes, Great George is the country's seventh largest bell. It will be rung by the University of Bristol Society of Change Ringers, who swing the bell using its rope and mounted wheel to produce a louder and richer sound than when the clock hammer usually chimes.
Such ringing is saved for special occasions such as the London 2012 Olympics, the Queen's Jubilee and the Royal Wedding in 2011.
Celebrations for Her Majesty's official birthday will be taking place across the country this weekend, with millions of people taking part in street parties to mark the occasion.
The Queen's Birthday Parade will take place on Horse Guards Parade this Saturday, attended by The Queen and members of the Royal Family.
The University of Bristol has welcomed Her Majesty to the University on two occasions, once in 1958 when she came to open the newly built Queen's Building, home to the Department of Engineering; and more recently in 2005, when returned to the Queen's Building to officially open the Bristol Laboratory for Advanced Dynamics Engineering (BLADE) - a new £18.5 million research facility.
Further information
The University of Bristol Society of Change Ringers (UBSCR)
UBSCR was founded in 1943. The 300 plus membership is made up of current and past students and staff of the University of Bristol. Members of UBSCR can be found all over the world.
Great George
Great George was cast in 1924 and is reputed to be the finest E-flat bell in Europe and one of the deepest-toned bells in the world. It is the seventh-largest bell in England and is believed to be the third-largest that can be rung by hand. It is 6ft 9" high and 8ft 4" in diameter and can be heard 12 miles away. It is named after George V, George Oatley and George Wills. You can follow Great George on Twitter @GreatGeorgeWMB.