View all news
Influential lecturer's legacy inspires new publication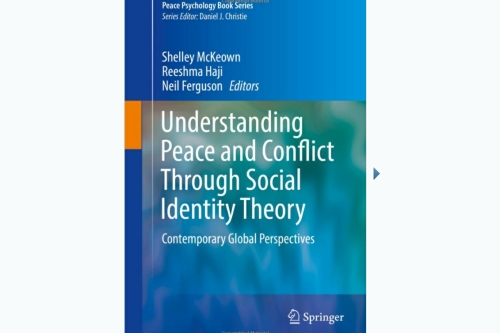 1 July 2016
A University of Bristol researcher has published a book inspired by former Bristol lecturer and highly influential psychologist Henri Tajfel.
Dr Shelly McKeown Jones, lecturer in psychology at the University's Graduate School of Education, is the editor of 'Understanding Peace and Conflict through Social Identity Theory – Contemporary Global Perspectives', a volume that brings together perspectives on social identity and peace psychology to explore the role that categorisation plays in both conflict and peace-building.
Dr McKeown Jones said: "The book draws leading scholars from across the world in a comprehensive exploration of social identity theory, and its application to some of the world's most pressing problems, such as intrastate conflict, uprising in the Middle East, the refugee crisis, global warming, racism and peace building."
A central theme in the book is that social identity theory – developed by Henri Tajfel – affects all of us, whether we are currently in a state of conflict or one further along in the peace process.
The book is organised into two sections, with the first focussing on the development of social identity theory. Grounded in the pioneering work of Dr Tajfel, it provides the reader with a historical background of the theory, as well as its current developments.
Section two meanwhile brings together a series of country case studies, focusing on issues of identity across five continents. It enables cross-cultural comparisons in terms of methodology and findings, and encourages the reader to identify general applications of identity to the understanding of peace as well as applications that may be more relevant in specific contexts. Taken together, these two sections provide a contemporary and diverse account of the state of social identity research in conflict situations and peace psychology today.
The book was contributed to by several of Tajfel's former PhD students, who are now eminent psychologists in their own right.
Dr McKeown Jones said: "Any account of peace requires an intricate understanding of identity both as a cause and consequence of conflict, as well as a potential resource to be harnessed in the promotion and maintenance of peace. Understanding Peace and Conflict Through Social Identity Theory: Contemporary Global Perspectives aims to help achieve such an understanding and as such is a valuable resource to those studying peace and conflict, psychologists, sociologists, anthropologists, public policy makers, and all those interested in the ways in which social identity impacts our world."