View all news
Hinkley Point C could contribute to the fight against climate change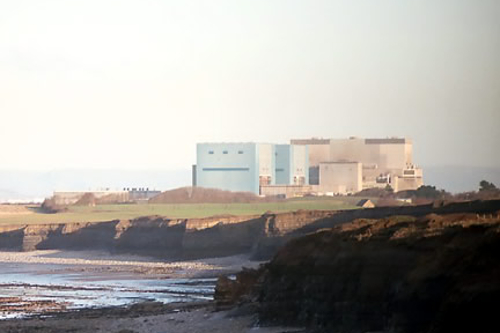 Press release issued: 28 July 2016
The new nuclear power station at Hinkley Point C, Somerset, could make a significant contribution to the fight against climate change say academics from the University of Bristol, who welcomed tonight's announcement by EDF.
Generating 3.2GW of electricity, enough to supply seven per cent of the UK's energy needs, the new nuclear power station will avoid the emission of around 600 million tonnes of CO2 during its proposed 60 year lifetime and improve the security of energy supply.
In a recent report, the Institution of Mechanical Engineers identified that, with the closure of coal stations and gradual retirement of existing nuclear plants, the country could face a potential supply gap of 40 to 55 per cent.
Professor Tom Scott, co-director of the South West Nuclear Hub and Nuclear Research Centre at the University of Bristol, said: "The University, a strategic partner of EDF Energy, has an established track record of delivering research in partnership with the nuclear energy industry focussing on safety and reliability throughout the life-cycle and including waste management solutions.
"We are already helping to develop a new generation of nuclear experts through our MSc in Nuclear Science and Engineering and these students will develop and operate new plants, which could still be running over 100 years from now.
"With future plans for an Open Innovation and Technology Centre (NUCLEATE), the University is seeking to facilitate a step-change in the development and adoption of innovation into the nuclear sector."
Professor Rich Pancost, Director of the University's Cabot Institute, added: "Large quantities of greenhouse gases continue to be released into our atmosphere and are contributing to global climate change. We need a diverse mix of low carbon energy sources to combat this risk, and ensure we still have sufficient energy to meet growing demand."
The South West Nuclear Hub, established at the University of Bristol with support from a HEFCE Catalyst Fund grant, supports the Government's ambition to renew and strengthen the UK's expertise and capability in nuclear energy.
Professor Nishan Canagarajah, Pro Vice-Chancellor for Research at the University of Bristol said: "The South West Nuclear Hub aims is to bring together the well-established industrial and academic nuclear capability in the South West to create a globally recognised centre of excellence for improving and developing nuclear energy technology, exploiting new ways of deploying current nuclear energy systems together with a step-change in what future nuclear systems will be capable of."
The South West Nuclear Hub will open its doors to new academic and industrial partners at a formal launch in September 2016.
Further information
About the Bristol-Oxford Nuclear Research Centre (NRC)
The Bristol-Oxford Nuclear Research Centre (NRC) is a virtual centre for nuclear fission and fusion research established by the two Universities in 2011, bringing together complimentary expertise and facilities.
Its Directors are Professor Tom Scott from the University of Bristol and Professor Chris Grovenor from the University of Oxford.
About the South West Nuclear Hub
The South West Nuclear Hub, a development of the NRC, is at the centre of a powerful research network built on the established base of nuclear expertise present in the South West of the UK. The ambition is to create an environment where fundamental research can be combined with industrial experience and commercial innovation to create technologies and solutions that can be deployed at nuclear facilities and carried through into the global supply chain. It also seeks to work with industry to offer students a highly interdisciplinary experience in nuclear science and engineering, preparing them to make a significant contribution to the use and development of nuclear energy in the UK and around the world.
About the Cabot Institute
The Cabot Institute drives world-leading research on how we depend on, live with and affect our planet. It stimulates new thinking and strives for new innovations to meet our social and environmental challenges. Its communities focus on six crucial areas: global environmental change, food, water, low carbon energy, natural hazards and future cities and communities. Each community is driven by outstanding academics with government, industry and society partners from across the globe. Working together, they seek radical and integrated solutions to 21st century challenges.