View all news
Bristol tech start-ups bid for backing at SETsquared's Accelerating Growth showcase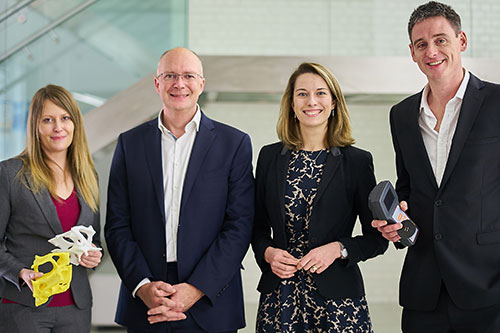 2 December 2016
High-growth tech entrepreneurs pitched for a share of more than £25 million backing when they took part in SETsquared's annual Accelerating Growth Investment Showcase in London last week.
Three of Bristol's start-up businesses presented their innovative products and services for a range of sectors, including medtech and social tech, smart cities and engineering, and digital and mobile. Their audience included more than 200 investors and corporates.
The showcase was organised by the world's number one university business incubator, SETsquared, an enterprise partnership between the universities of Bath, Bristol, Exeter, Southampton and Surrey, which provided mentoring support and comprehensive pitch training.
The Bristol companies pitching for investment were:
Inductosense Ltd – which has developed embeddable, battery-free sensors, systems and analytics for fast, repeatable, through-life detection of cracks, corrosion or defects in structures;
Inclusive Media Solutions Ltd – which has created EasyVideo, technology that enables adults with learning disabilities to scan household items with any smart device and plays a video of how to use it;
VRGO Ltd – which has created a wireless, hands-free, motion-controlled chair for use with virtual reality games, designed to fit into typical living spaces.
Monika Radclyffe, SETsquared Centre Director at the University of Bristol, said: 'Yet again, I was delighted and very proud to see huge enthusiasm and commitment from the companies that SETsquared supports at this year's Accelerating Growth investment showcase.
'There is a real appetite among investors to partner with SETsquared's high-growth potential technology companies and their engaging pitches really created a buzz at the event. We hope this networking opportunity will result in even more success stories for Bristol's budding entrepreneurs over the next year.'
Over the last 14 years SETsquared has helped more than one thousand businesses raise over £1 billion in investment, as well as contributing over £3.8 billion in GVA (Gross Value Added) to the UK economy with £8.6 billion GVA estimated over the next decade – figures that contributed to its being named by UBI Global as the top university business incubator in the world at the end of 2015.