View all news
Student-led diabetes management start-up wins top prize in the New Enterprise Competition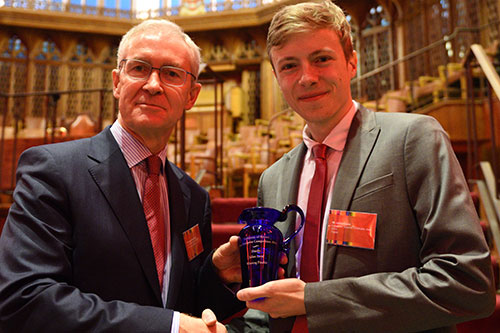 12 December 2016
A virtual assistant and diabetes management solution has won the University of Bristol's answer to Dragons' Den and a share of over £40,000 of prize money.
Distillr, a company formed by Julian Laval, a 2016 Computer Science graduate, combines the latest advances in machine-learning technology with a seamless user experience, making diabetes management as easy and as intuitive as possible and empowering diabetics around the world to better manage their health.
Julian, a type 1 diabetic himself, beat 113 entries over three rounds to scoop the top prize in the New Enterprise Competition, which was judged by a panel of industry experts. He won a total of £11,500 in cash and a year in the SETsquared business incubator to help refine the technology further and develop Distillr into a growing business.
Ten finalists in total had to submit a 20-page business plan and give a presentation pitch to a panel of judges, before awaiting the announcement of the winner at last week's Strategy Launch in the Wills Memorial Building. This year's prizes were supported by a range of partner organisations including the Wyvern Fund, SETsquared, Santander Universities, IP Group, Watertight Marketing, the Motorola Foundation, and Veale Wasbrough Vizards.
Distillr is the culmination of two years of work, beginning as a student side-project before Julian found support in this most recent year from the student start-up accelerator, Business Basecamp, run by the University's Careers Service.
Julian said: 'Diabetes is a truly global problem, and it is high time that patients, their loved ones and their doctors have access to an elegant, intuitive, yet powerful diabetes management service. I am hugely grateful for the opportunity to participate in this year's New Enterprise Competition, and would like to extend my heartfelt thanks to the University for their support throughout. With their help, I look forward to further developing this vision of a diabetes management solution worthy of the 21st century.'
Joint second place went to student-led Perceptual Robotics, who are developing an industry-leading autonomous aerial platform that delivers wind turbine inspections at the press of a button; and staff-led IRISCo, a social enterprise created to support the widespread adoption of IRIS (Identification and Referral to Improve Safety) and other evidence-based healthcare responses to the issue of domestic violence and abuse.
There were two 'Commended Finalists' in this year's competition:
Huxlo – a Bristol-based digital manufacturing company that designs and creates flat packed outbuildings and interior furniture;
Anaphite technologies – a student-led start-up that specialises in developing, manufacturing, and implementing advanced nanotechnologies into everyday life.
Further information
The New Enterprise Competition is the University of Bristol's flagship business idea challenge. The competition is open to staff, students and recent graduates.
It's about championing and supporting original ideas, original thought and a self-sustaining business. It's open to both commercial and social enterprises, and includes everything from simple conceptual ideas through to businesses in their first year of trading. Throughout the competition the University provides educational events, opportunities to get feedback and support, and the chance to meet many useful contacts.
There were 114 entries to this year's competition. Thanks to our supporters, during the idea generation, idea development and final stages the University was able to distribute over £40,000 in cash and over £5,000 worth of industry support across a total of 22 fledgling business ideas. At an event in the Engine Shed, 10 innovative new business proposals pitched in the Final of the New Enterprise Competition, of which we are pleased to announce that five business propositions have gained financial support.
The judging panel consisted of local industry experts from Airbus, IP Group, the Wyvern Fund, SETsquared, Santander, GL Business Consultancy and Veale Wasbrough Vizards.