View all news
Bristol PhD student shortlisted for Institute of Physics award for outstanding science communication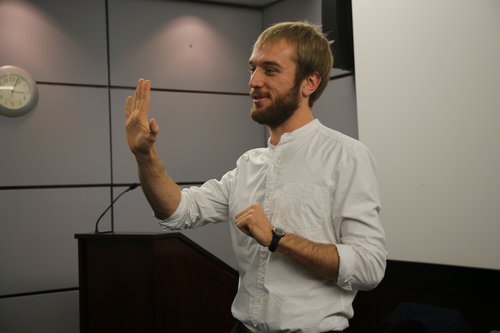 12 December 2016
Euan Allen, a PhD student at the University of Bristol, has been shortlisted for the Institute of Physics (IOP) award recognising outstanding science communicators.
The award celebrates physicists early in their career who have demonstrated a commitment to communicating their work and physics in general to a wider public audience.
This year's four finalists attended the awards ceremony on 21 November, at the London offices of the IOP, where they were invited to give a speech about their work to the panel of judges. The overall winner of the award was Niamh Kavanagh, a PhD student at the Tyndall National Institute, University College Cork, Ireland.
Euan said: "It's wonderful to be named as a finalist. These past few years have certainly been some of the busiest, but they have also been some of the most enjoyable and fulfilling ever.
"I've had the privilege of being involved in numerous outreach and communication projects, which have all been a pleasure to develop and work at. I have met and worked with some amazingly talented and committed science communicators, which has been an absolute joy and a huge learning experience.
"To cap this year off by attending the finals of the award in London is an honour and extremely exciting. I would like to extend my thanks to the Institute of Physics for providing such a great event and inviting me to it."
Euan is currently in his first year as a PhD student studying quantum engineering at the University of Bristol. Alongside his research, he is a member of the STEM ambassador network for Bristol, where he visits local schools to deliver physics workshops to students. Euan also helped run a summer school for A-level students on quantum physics and quantum computing, which included lab sessions, lectures and workshops.
Dr David Smith, Chair of the IOP Physics Communicators Group, commented: 'We wish Euan every success with his physics career and hope that the recognition received through being shortlisted for the Early Career Physics Communicator award will help him develop and continue his physics communication work.'
Further information
Institute of Physics

The Institute of Physics is a leading scientific membership society whose purpose is to gather, inspire, guide, represent and celebrate all who share a passion for physics.