View all news
National teaching award for 'outstanding' Vet School educator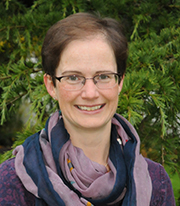 8 December 2016
Mrs Sheena Warman, of the University of Bristol's School of Veterinary Sciences, has been awarded a National Teaching Fellowship by the Higher Education Academy.
The awards, announced 8 December, are the most prestigious available to teachers in UK higher education and recognise individuals who have made an outstanding impact on student learning and the teaching profession.
Sheena's role as a Senior Clinical Fellow in Small Animal Medicine combines clinical veterinary work and teaching, giving her the opportunity to support students, clinicians and educators in the School of Veterinary Sciences and further afield. Her research in feedback and reflective practice have helped her develop novel strategies for both student teaching and staff development.
As a clinical teacher, she has been awarded School prizes for excellence in teaching, and gained wider recognition through a University Teaching Fellowship and Senior Fellowship of the HEA. As a part-time Doctorate in Education student, her studies are introducing her to the world of social sciences and qualitative research, giving her a broader perspective on education and sociocultural contexts.
Sheena's leadership roles, such as redesigning the final year of the veterinary programme, supported by the development of a novel approach to providing opportunities for clinical staff to develop their teaching skills, have contributed to a dramatic improvement in the student experience. Her wider work in assessment, in particular feedback, has resulted in a programmatic approach that supports students to develop as reflective learners, and has generated interest nationally and internationally through publications and conferences. Establishing staff training initiatives has enabled her to help a broad range of staff to understand and utilise a wide variety of strategies to enhance their own teaching practice.
Sheena joins four other University of Bristol academics who have been awarded a National Teaching Fellowship since 2004. She said: "I am delighted to receive this award, which reflects the tremendous support and enthusiasm of the team at the Vet School and more widely within the University. We are very proud of our new and innovative BVSc curriculum, and I feel privileged that some of my initiatives have contributed to its success. This award will give me opportunities to collaborate with and learn from an increasing network of colleagues and friends within the wider veterinary and education communities."
Head of the School of Veterinary Sciences, Professor Richard Hammond said: "I am so pleased that Sheena has received this award and thereby national recognition for the excellence of her achievements. Sheena works tirelessly on behalf the the School to further improve the clinical learning environment and thereby the student experience. Despite managing a busy clinical caseload, Sheena has managed to champion educational best practice and has developed new and innovative ways to improve the teaching practice of others. Sheena puts the students at the heart of all she does and has the respect of colleagues across the School. I am very proud and fortunate to have Sheena as a colleague."
Pro Vice-Chancellor for Education, Professor Judith Squires said: "I am pleased that the excellence of Sheena Warman's teaching practice has been recognised in the award of this prestigious Fellowship. We are proud of the excellent teaching delivered at the University of Bristol and welcome this external recognition of the outstanding impact that Sheena has had on teaching and student learning in the Vet School."
Sheena will be presented with her award at the National Teaching Fellowship Awards Ceremony in London on Wednesday 25 January 2017.