View all news
Building on success: Engine Shed prepares for the future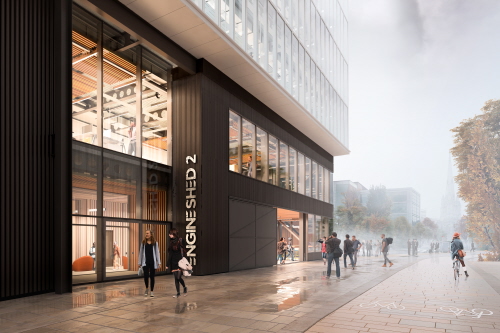 Press release issued: 5 December 2016
Business incubation centre Engine Shed has marked its third anniversary by launching the public consultation for its second hub – to be located next to the University of Bristol's new £300 million campus.
Engine Shed, a collaborative project between Bristol City Council and the University of Bristol, opened in 2013 and has helped to develop scores of young start-up companies.
Developer Skanska has launched a public consultation on their plans for Engine Shed 2, which at 44,000 square feet will be twice the size of Engine Shed. Plans will be submitted for planning consent on 12 December.
It will replace the George and Railway Hotel and will sit near to the University's proposed Temple Quarter Campus, which will be built on the site of the derelict Royal Mail sorting office next to Bristol Temple Meads station and will form part of the Temple Quarter Enterprise Zone.
Engine Shed 2 offers an opportunity to create more space to inspire young people to be the entrepreneurs of the future while transforming a gateway site close to the station that has been an eyesore for years.
Nick Sturge, Director and co-founder of Engine Shed, said: "We are incredibly proud of what we have achieved and learned to with Engine Shed since we wrote the business plan in January 2013, and so incredibly grateful for the support and goodwill we have received.
"There is so much more to do to help create an thriving economy in the West of England that taps into the rich diversity we are so lucky to have – diversity which is at the heart of the innovative, can-do attitude that this region is rightly becoming known for."
Engine Shed contributed £7 million to the economy and reached full occupancy within 12 months of opening. An estimated 30,000 people have visited Engine Shed in the past year.
It houses the University's Bristol SETsquared Centre, which was named as the best university business incubator in the world last year and, in the last three years, it has supported 72 companies who have raised £100 million and created over 400 jobs.
Engine Shed also houses the Local Enterprise Partnership, Invest Bristol & Bath and a number of other components with the mission of stimulating long term, sustainable and inclusive economic growth.
Professor Hugh Brady, Vice-Chancellor and President of the University of Bristol, said: "In its first three years, Engine Shed has played a major role in helping Bristol and the entrepreneurial businesses located there, to be recognised nationally and internationally as one of the leading cities in Europe in which to build and grow technology-based businesses.
"I am delighted that the University, working with Bristol City Council, the West of England Local Enterprise Partnership and many other supporters, has been able to achieve so much in such a short time. The University of Bristol is fortunate to be located in one of Europe's most creative, dynamic and liveable cities with which we enjoy a close and synergistic relationship and we are fully committed to playing a central role in ensuring its continuing success."
In addition to its proximity to Engine Shed 2, Temple Quarter Campus will house a Digital Innovation Hub, a 'business school of the future' and a student residential village.
All-new degree programmes will be designed and developed in collaboration with industry partners to ensure students educated on the Temple Quarter Campus are equipped to create, lead and work successfully in the industries of tomorrow.
Marvin Rees, Mayor of Bristol, said: "Engine Shed, in the heart of the Bristol Temple Quarter Enterprise Zone, has been hugely successful in supporting new entrepreneurial businesses and delivering economic value to the city while also being committed to delivering social value within enterprise development.
"It brings a different approach to economic expansion developing new business methods and the courage to innovate. All this with a commitment to an inclusive economic growth that creates opportunity for people from all Bristol communities. I look forward to Engine Shed 2 making an even bigger impact on our city region, bringing together people with a passion to support our entrepreneurs of the future."