View all news
Celebrities line-up for Christmas University Challenge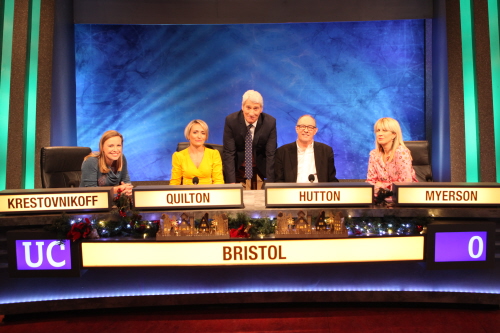 Press release issued: 20 December 2016
Four famous faces from the University of Bristol will be pitting their quizzing prowess against Jeremy Paxman in a special series of University Challenge this Christmas.
A team made up of well-known Bristol alumni will face the University of Nottingham on Boxing Day at 6.20pm on BBC 2.
The Bristol brainboxes are:
Will Hutton (BSc 1972, Hon LLD 2003), author and Observer columnist
Kate Quilton (BA 2006), journalist and television presenter
Miranda Krestovnikoff (BSc 1994), wildlife presenter and President of the RSPB
Julie Myerson (BA 1982), novelist
They will take on the knowledgeable contestants from Nottingham: Chris Hawkins (presenter on BBC Radio 6 Music); David Florence (canoeist, triple Olympic silver medallist); Nick Miller (BBC weather presenter); and Frances Spalding (art historian).
Over 50 prominent alumni from 14 universities and university colleges will compete against each other as they vie for the honour of being crowned series champions.
Each team will compete in one of seven first round matches, after which the four teams with the highest winning scores will face each other in two semi-finals, with the winners then meeting in the final on 29 December at 7.30pm.
Peter Gwyn, Executive Producer, ITV Studios, said: "Once again, distinguished alumni from a range of different industries and disciplines will be coming together to test their general knowledge this Christmas, as they battle it out to try and lead their alma mater to the title and claim this year's bragging rights."