View all news
Bristol collaborates with Keysight Technologies on 5G wireless technology research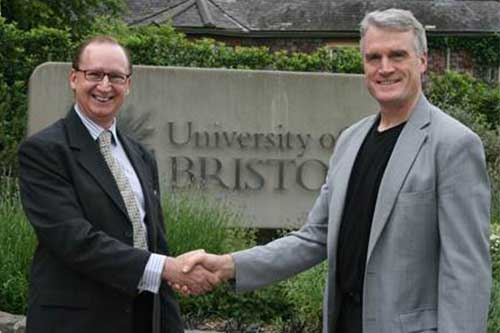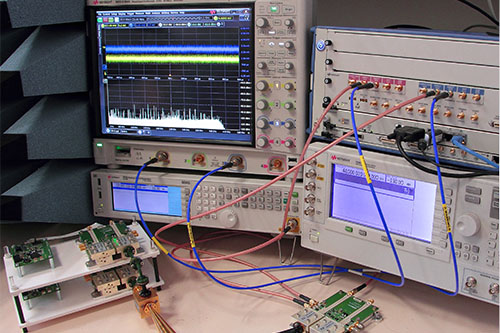 Press release issued: 8 September 2015
The University of Bristol announced today [Tuesday 8 September] it is collaborating with Keysight Technologies on 5G millimetre-wave research. The two organisations are already deeply involved in the 5G ecosystem in Europe and the US and now will be working closely together on multiple 5G millimetre-wave technologies.
The pursuit of more bandwidth for ever-faster digital wireless communications has pushed the research community to explore how to use much higher frequencies for commercial mobile multiple-access performance. The collaboration combines Bristol's leading-edge wireless research with Keysight's deep experience and capability in millimetre-wave and ultra-broadband simulation, design, test and measurement. The work will contribute to the development of the new capabilities needed for 5G and at the same time enable a richer mutual learning environment for the researchers at the University of Bristol and Keysight.
Among other specific areas of research, the two organisations will combine their capabilities in millimetre-wave radio channel measurements and simulation to understand the nuances of these frequencies for use in communications. The test environment will combine Keysight's millimetre-wave channel sounding hardware and software with the University of Bristol's advanced antenna and ray-tracing technologies.
Professor Andrew Nix, Dean of the Faculty of Engineering and who leads the Communication Systems & Networks (CSN) Group at Bristol, said: "I am delighted to formalise our collaboration with Keysight. Their world-leading millimetre-wave design, test and measurement facilities radically enhance our ability to contribute to global 5G developments. Through our Centre for Doctoral Training (CDT) in Communications we will use the Keysight tools to equip a new generation of engineers with the skills needed to develop and roll-out 5G networks."
Mark Beach, Professor of Radio Systems Engineering and Manager of the EPSRC CDT in Communications at Bristol, added: "The multi-gigahertz bandwidth capability of the Keysight platform will give us greater insight into the propagation mechanisms at millimeter-wave frequencies and facilitate our research in projects such as mmMagic (EU 5G PPP). This equipment will work hand-in-hand with the stacked-bandwidth capability of our Anite Propsim® F8 channel emulators recently procured through an UK EPSRC equipment award."
Roger Nichols, Keysight's 5G Program Manager, said: "The University of Bristol represents a centre of excellence in wireless research in the UK and I am excited to be part of this work. Professor Nix and his team have been working closely with us for about a year and we are looking forward to a deeper collaboration."
To understand how researchers with the Communication Systems and Networks group at the University of Bristol will be utilising the Keysight equipment, see www.bristol.ac.uk/engineering/research/csn.
The collaboration with the University of Bristol represents another example of Keysight's continued commitment to support industry and academic leaders in the work to make 5G wireless a reality. To see an example of the international research efforts of both organisations see www.bristol.ac.uk/news/2015/july/mmwave.html.
Further information
Keysight 5G
Keysight Technologies, Inc. provides a comprehensive set of 5G electronic design and test tools designed to help engineers gain greater insight into their R&D and manufacturing processes. Keysight's 5G simulation and measurement solutions include: mmWave, broadband generation and analysis; physical layer designs; MIMO, RF, microwave, and millimetre-wave components and antennas; and high-speed digital and power management. Keysight is working closely with industry consortia, industry-leading companies and academia to advance the next-generation of 5G wireless communications systems. Information about Keysight's 5G test and measurement solutions is available at www.keysight.com/find/5G.
About Keysight Technologies
Keysight Technologies (NYSE:KEYS) is a global electronic measurement technology and market leader helping to transform its customers' measurement experience through innovations in wireless, modular, and software solutions. Keysight's electronic measurement instruments, systems, software and services are used in the design, development, manufacture, installation, deployment and operation of electronic equipment. The business had revenues of $2.9 billion in fiscal year 2014. Information about Keysight is available at www.keysight.com.