View all news
Bristol academics named among 'world's most influential scientific minds' 2015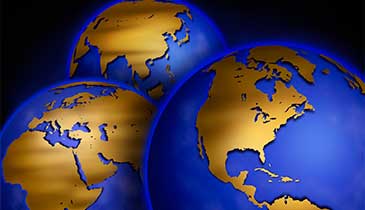 Press release issued: 15 October 2015
University of Bristol academics have been named by Thomson Reuters as among the 2015 top one per cent of scientists who are "the world's most influential scientific minds" and whose publications have been deemed as having exceptional impact.
The Highly Cited Researchers list from Thomson Reuters recognises leading academics in the sciences and social sciences from around the world.
The nine academics listed for 2015 are:
Thomson Reuters identified the best and brightest scientists by analysing only highly cited papers in science and social sciences journals during the 11-year period 2003-2013. Highly cited papers are defined as those that rank in the top one per cent by citations for field and publication year in the Web of Science Core Collection.
Professor Jonathan Sterne, Head of the School of Social and Community Medicine, said: "We are delighted that the importance of the work of so many researchers from our School has been recognised in this way. Our work is multidisciplinary and highly collaborative, and all of us thank the many colleagues whose contributions led to the impact of these publications."
Epidemiologist, Professor George Davey-Smith, is the Scientific Director of the Children of the 90s study, also known as ALSPAC, a long-term health research project that enrolled 14,000 pregnant mothers in 1991 and 1992, and has followed the health and development of their children ever since. He is also Director of the MRC Integrative Epidemiology Unit (IEU) that conducts some of the UK's most advanced population health science research. He is internationally recognised as the prime developer of "Mendelian randomization", a now widely-used approach that utilises genetic variation to uncover modifiable causes and treatment of disease.
Professor David Evans is a visiting Professor in the School of Social and Community Medicine and programme lead in the MRC Integrative Epidemiology Unit at the University of Bristol. His research involves the genetic mapping of complex traits and diseases through genome-wide association analysis as well as the development of statistical methodology to better accomplish this task. He is also involved in several large international collaborations which aim to detect disease associated variants by genome-wide association.
Dr Bruna Galobardes has held a MRC and a Wellcome Trust Fellowship and is an Honorary Senior Research Fellow in the School of Social and Community Medicine. Her research focuses on understanding the role that life course socioeconomic inequalities have in health outcomes, in particular, how social and economic factors "get under the skin" resulting in ill health.
Professor Julian Higgins is Professor of Evidence Synthesis in the School of Social and Community Medicine. His research interests cover the systematic review methods such as assessing and adjusting for bias in primary studies, meta-epidemiological studies, meta-analysis methods including Bayesian approaches, network meta-analysis and analysing individual participant data.
Professor Debbie Lawlor is Professor of Epidemiology in the School of Social and Community Medicine and programme lead in the MRC Integrative Epidemiology Unit at Bristol. Her main areas of research are reproductive and cardiometabolic health, in particular understanding how a woman's reproductive health influences her, and her offspring's future cardiometabolic health. She has also contributed to developing novel methods for improving how to determine whether observed associations are causal or not.
Dr Wendy McArdle is Head of DNA Collections in the School of Social and Community Medicine. Her research projects include the Accessible Resource for Integrated Epigenomics Studies (ARIES) and managing the DNA banks for the Avon Longitudinal Study of Parents and Children (ALSPAC) and the 1958 Birth Cohort (BC) study. ARIES is a BBSRC-funded resource to generate epigenomic information on a range of human tissues at multiple time points across the life course. ALSPAC is a Wellcome Trust/Medical Research Council (MRC) funded long-term health research project for which the ALSPAC families have provided a vast amount of genetic and environmental information over the years. The Wellcome Trust/MRC funded 1958 BC study follows the lives of 17,000 people born in England, Scotland and Wales in a single week of 1958. As Head of DNA collections, Dr McArdle's inclusion in this list underlines the importance of the DNA bank for each of these major genetic epidemiology studies.
Geoff Nute was a Senior Research Fellow at the University of Bristol until he retired in July 2009. Geoff spent 43 years in Meat Research and Sensory Analysis. After starting his career in 1966 at the Low Temperature Research Station, Cambridge University, he later moved in 1968 to the Meat Research Institute at Langford and became Head of Sensory Analysis.
Dr Ian Richardson is a Senior Research Fellow and Senior Lecturer in Food Animal Science in the School of Veterinary Sciences. His work in meat research spans over 25 years and aims to improve the quality of red meats with particular emphasis on post-slaughter technologies that enhance eating quality and composition. Latterly work has concentrated on understanding the interaction between composition, antioxidants and packaging systems with the aim of reducing waste through the food chain.
Professor Jonathan Sterne is a medical statistician and epidemiologist who is Head of the University of Bristol's School of Social and Community Medicine. His work with the ART Cohort Collaboration, has clarified the prognosis of HIV positive people starting antiretroviral therapy and assisted the development of international treatment guidelines. He developed widely used approaches to understand and address bias in systematic reviews and meta-analyses, which underpin the practice of evidence-based medicine. Other research interests include methods for causal inference from non-randomized studies, and the epidemiology of asthma and allergic diseases.
To learn more about the methodology behind the listing of Highly Cited Researchers, visit http://highlycited.com/purpose/.