View all news
Street artist transforms a corner of the University of Bristol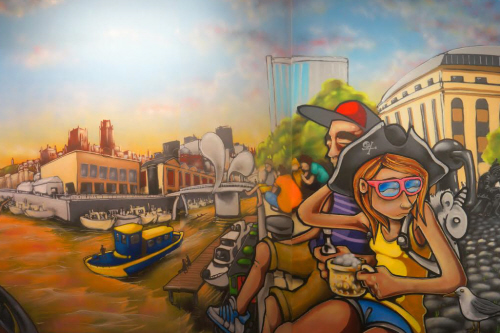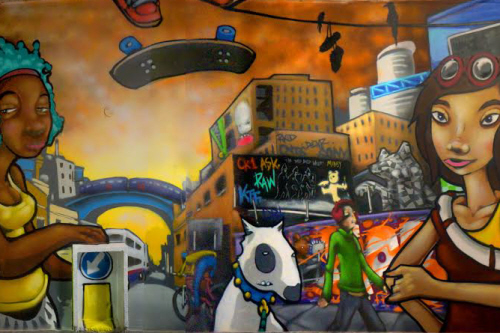 Press release issued: 20 October 2015
An internationally renowned street artist has transformed a corner of the University of Bristol, creating a colourful mural of the city.
The University's Centre for English Language and Foundation Studies (CELFS) commissioned Silent Hobo, otherwise known as Wei Ong, to paint two floors of a large internal stairwell in the Richmond Building on Queen's Road, home to the University of Bristol's Students' Union (Bristol SU).
Silent Hobo's work has been in demand across the world, from companies such as Coca Cola, Levis and the London 2012 Olympics. His work is even displayed in the Google head offices in Washington DC and New York.
He spent over four weeks designing the scenes and a further four weeks creating his masterpiece on the previously plain stairwell.
As CELFS works primarily with overseas students, it wanted to capture the many characteristics of the city in the hope that it would encourage them to explore what is around them.
The final mural includes local Bristol scenes and incorporates themes of international diversity, learning and culture.
Sharp-eyed observers will spot iconic Bristol landmarks, colourful terraced houses, graffiti, skateboarders, cyclists, deer in Ashton Park and even a few pesky seagulls.
Wei, aka Silent Hobo, said: "There was so much I could add in terms of landmarks, buildings and Bristol icons that it was a case of scaling back so that the scene illustrated did not become an incoherent jumble of Bristol.
"I wanted to illustrate a scene that was believable and to still maintain a local flavour. The characters are important as I hope that they represent the mix of people that are present here and how we all get along.
"I'm not political in my work, but I do try to put across a positive vibe through what I draw or paint; I love living here and I hope that comes across through the murals."
Gavin Dodsworth, Centre Director of CELFS, said: "It's transformed the space beyond anything we could have hoped for. We've turned a slightly grim stairwell into something that all of us are proud to be connected with. It's also made those of us in the Centre appear a lot cooler than quite frankly we are.
"I guess a bit more seriously, we're always talking about University-city connections and this comes about in many ways. The fact that the city is becoming globally well-known as a creative place, particularly in street art, meant that we wanted as a Centre to find someone who would do something that symbolized Bristol in 2015, and I think he has."
Maxine Gillway, Deputy Director of CELFS, added: "It is great to see Bristol from a new perspective and as a native Bristolian it is fun to pick out all the subtle references to Bristol past and present. I enjoy sharing these stories with the students. The vibrant colours and images also encourage me to walk up the stairs every day."
Staff and students can see the giant murals on levels four and five of the internal stairwells of the Richmond Building, outside the CELFS offices.