View all news
Bristol engineer wins Industrial Fellowship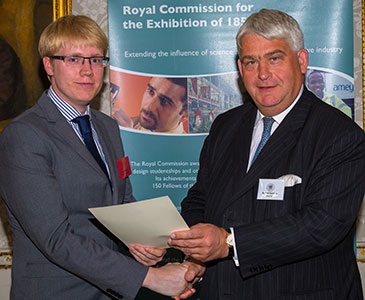 19 October 2015
Alexander Ballisat, a Doctoral student in the Faculty of Engineering, has won a prestigious award from the Royal Commission of the Exhibition of 1851.
The Commission's Industrial Fellowship Awards provide recent graduates with the means to develop innovative technology with commercial potential, ideally leading to a patent, while completing a PhD or EngD.
Alexander's project, 'Model-assisted qualification of non-destructive testing methods', aims to validate techniques of non-destructive testing for large-scale manufacturing (eg planes and cars) without the need for expensive trials.
His project uses a combination of theoretical models and existing data, which could lead to a faster and cheaper way to introduce new techniques.
Alexander, who graduated from the School of Physics at the University of Bristol, is pursuing an Engineering Doctorate in the UK Research Centre in Non-Destructive Evaluation at Bristol, working with the Government's Defence Science and Technology Laboratory at Porton Down.
Each Industrial Fellow receives up to £80,000 over three years from the Royal Commission for the Exhibition of 1851 to help fund innovative doctoral research with commercial potential. The work is to be carried out in collaboration with an academic institution and a business partner.