View all news
Bristol student scoops prize in national PhD competition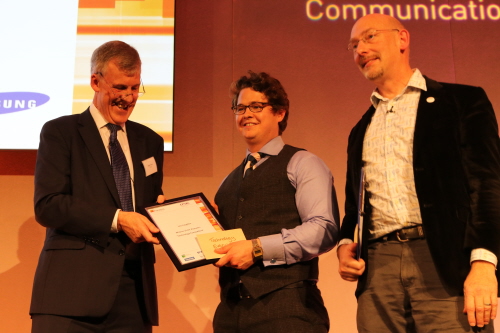 Press release issued: 30 October 2015
A PhD student from the University of Bristol has been named as one of the winners of a prestigious national competition for his work on a new technology that could fundamentally change future wireless communications.
Leo Laughlin, from the University's EPSRC Centre for Doctoral Training (CDT) in Communications, won the Technology Everywhere category in the UK ICT Pioneers competition 2015 - honouring researchers who are pioneers in Information and Communication Technology (ICT).
Leo's work on bi-directional radio communications could result in a fundamental change to the way we design wireless devices and has the potential to increase data rates and network capacity, reduce power consumption, create cheaper mobile devices and enable global roaming.
Together with his supervisors, Professor Mark Beach and Dr Kevin Morris in the Communication Systems and Networks research group and industrial mentor, Dr John Haine at u-blox, Leo has developed a novel method of minimising self-interference power in a full duplex radio system.
Practical results demonstrated at the EPSRC ICT Pioneers final illustrated how the adaptive tuning algorithms respond when objects are placed near the antenna as well as the performance of the self-interference cancellation using novel waveform injection.
Mark Beach, Professor of Radio Systems Engineering in the Department of Electrical and Electronic Engineering and Manager of the EPSRC Centre for Doctoral Training (CDT) in Communications, said: "We are justifiably proud of Leo and this award exemplifies both his technical contributions to the field of full duplex wireless and skills of conveying his research to a non-specialist audience. Equipping our students with such skills is at the heart of our training at Bristol."
Dr John Haine of u-blox, who has been Leo's industrial supervisor, added: "It has been a pleasure to work with Leo and the Bristol CDT team on this project. We are very pleased to have had the opportunity to push this research forward and we will be continuing the association to the next phase."
UK ICT Pioneers is a unique partnership between the Engineering and Physical Sciences Research Council (EPSRC) and key stakeholders that aims to recognise the most exceptional UK PhD students in ICT-related topics who are able to communicate and demonstrate the excellence and exploitation potential of their research.
The 2015 competition has been sponsored by Dstl, HP, EPSRC, BCS, BT, Facebook and Samsung. The competition is open to all UK students in the final two years of their doctoral training in an ICT-related subject including but not restricted to electronics, communications, computer science, human-computer interfaces and photonics.
The overall winner of the competition, together with four category winners, was announced at an event in London last night [29 October].