View all news
Research breakthrough will help clean up Sellafield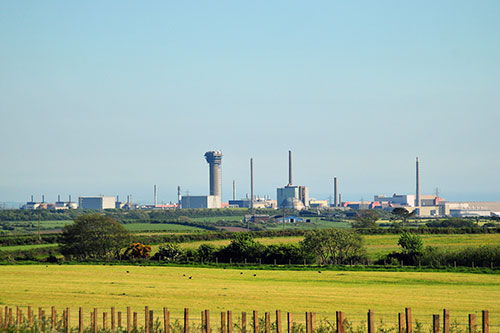 Press release issued: 26 October 2015
The timescale and costs of cleaning up one of the UK's most hazardous buildings, Magnox Swarf Storage Silo at Sellafield, could be significantly reduced, thanks to a study involving researchers from the University of Bristol.
The research, which focussed on the chemical behaviours of intermediate level waste (ILW) at the site, unearthed previously unknown information about the long-term corrosion behaviours of magnesium and uranium.
This discovery points the way to a radically simplified approach to the packaging and disposal of ILW. Previously, a 22-step mechanical treatment and encapsulation process was thought necessary to manage and ultimately dispose of ILW stored in silos constructed over 50 years ago.
The study's findings suggest this could be replaced with a 3-step solution which stores the waste 'raw' with concrete grout inside a shielded container. Switching to this new method could speed up the decommissioning of the silo by several years and provide huge savings to the taxpayer. The technique could also be applied to other redundant nuclear facilities in the UK and around the world.
Dr Tom Scott, Director of Bristol's Interface Analysis Centre which was involved in the work, said: "At Bristol we've employed cutting edge and unique experimental and analysis techniques both at the University and at the Diamond Light Source synchrotron facility to provide data to scientifically underpin this much welcomed change in direction.
"By working closely with both the National Nuclear Laboratory and Sellafield, who have funded our research, we're proud that our work has delivered such positive impact. Without compromising safety we will realise a significant cost saving for the UK taxpayer when it comes to processing our nuclear waste."
The four-year study was led by the Nuclear Decommissioning Authority, Sellafield and the National Nuclear Laboratory, with academics from the Universities of Bristol, Leeds and London South Bank.