View all news
Bristol research team opens lab for World Diabetes Day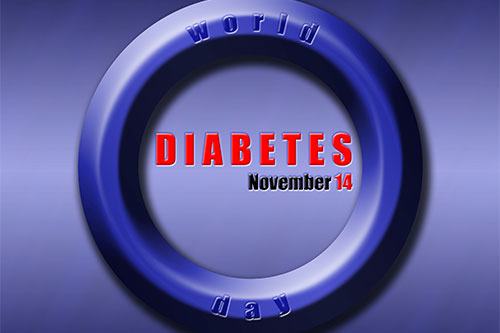 Press release issued: 14 November 2015
On World Diabetes Day [14 November] people around the world will be coming together to raise awareness of the condition, which now affects 3.9 million people in the UK. To mark the occasion, the University of Bristol's Dr Kathleen Gillespie has opened her research labs and invited children and families living with Type 1 diabetes to hear about her ground breaking work in this area.
Claire Pope, from Kingswood in Bristol, and her young son Lewis, who was diagnosed with Type 1 diabetes when he was just six years old, are attending the lab tour with members of the Bristol and Mendip Diabetes UK local groups.
Claire said: "Lewis became seriously ill before he was diagnosed. Three years later, he is on an insulin pump and we are getting on with life and managing his condition.
"This is exciting research, and it is great to see how some of the funds we raise for Diabetes UK as a local group are spent. We enjoyed the lab tour, learning about the genetics of diabetes and seeing what the researchers are actually working on. It was great to get a better understanding of the causes of Type 1 diabetes and how this could eventually lead to finding a cure for this condition."
Diabetes UK estimates that there are nearly 2,000 people in Bristol with Type 1 diabetes. People with the condition do not produce insulin, the hormone that controls blood sugar levels. The exact causes of the condition are unknown, but it's not related to being overweight and cannot be prevented. Type 1 diabetes usually affects children or young adults, starting suddenly and getting worse quickly. It is treated with daily insulin doses - taken either by injection or using an insulin pump.
Dr Gillespie's research is focused on the 'Bart's Oxford' study of Type 1 diabetes, which has been recruiting children with diabetes and their families for more than 30 years. Dr Gillespie and her team are studying the blood samples of study volunteers to help them investigate the causes of Type 1 diabetes, and why some develop the condition when others do not.
Dr Gillespie, Reader in Molecular Medicine in the Diabetes and Metabolism research group, said: "The Bart's Oxford study has already had a significant impact. We now know that the number of young children with diabetes is increasing and how to measure markers in the blood which can tell us who will get Type 1 diabetes in the future. Recent generous support from Diabetes UK will allow us to continue our work for another five years.
"Not everyone with Type 1 diabetes develops it when they are young. My team are also looking at why some people are able to fight the onset of the condition until they are much older. If we can understand how their immune system protects them, we could use that information to try and delay or even prevent Type 1 diabetes in the future."
Dr Gillespie's work is just one of over 100 studies that Diabetes UK is supporting all over the country with support from its dedicated volunteers. Each is helping to nurture a project, individual or idea that will help transform the treatment and prevention of all forms of diabetes, and lead to a cure. Diabetes UK relies on public support to fund ground breaking research like Dr Gillespie's. Last year, the charity spent £7 million on new and ongoing research - but had to turn away 1 in 3 promising studies due to a lack of funding.
Dr Richard Elliott, from the Diabetes UK Research Team, said: "We're very pleased to be helping Dr Gillespie and other diabetes researchers across the UK to achieve their goals. Their work is helping to make life better for everyone living with diabetes. We're indebted to our supporters for their help, but as a nation we must do more. We need to see the same commitment to tackling diabetes through research as we have rightly seen for other health conditions."
The longer someone has diabetes, the more likely they are to develop serious complications, such as kidney disease, stroke and amputation - that's why delaying its onset even by just five years could have major benefits for people living with the condition."
Dr Elliott added: "Projects like Dr Gillespie's research are bringing us closer to the point where we will be able to prevent Type 1 diabetes. If you'd like to help us get there, please support Diabetes UK by texting PROGRESS to 70300 or consider fundraising for us by running the Bath Half Marathon in March 2016."
For more information about local Diabetes UK fundraising events, contact south.west@diabetes.org.uk or visit www.diabetes.org.uk
Further information
Diabetes UK is the leading UK charity that cares for, connects with and campaigns on behalf of all people affected by and at risk of diabetes. For more information on all aspects of diabetes and access to Diabetes UK activities and services, visit www.diabetes.org.uk
In the UK, there are 3.9 million people who have diabetes of which 590,000 people who have Type 2 diabetes but don't know they have it because they haven't been diagnosed. 11.5 million people are at increased risk of developing Type 2 diabetes and if current trends continue, an estimated 5 million people will have diabetes by 2025.
Diabetes is a condition where there is too much glucose in the blood because the body cannot use it properly. If not managed well, both Type 1 and Type 2 diabetes can lead to devastating complications. Diabetes is the leading cause of preventable sight loss in people of working age in the UK and is a major cause of lower limb amputation, kidney failure and stroke.
People with Type 1 diabetes cannot produce insulin. About 10 per cent of people with diabetes have Type 1. No one knows exactly what causes it, but it's not to do with being overweight and it isn't currently preventable. It usually affects children or young adults, starting suddenly and getting worse quickly. Type 1 diabetes is treated by daily insulin doses - taken either by injections or via an insulin pump. It is also recommended to follow a healthy diet and take regular physical activity.
People with Type 2 diabetes don't produce enough insulin or the insulin they produce doesn't work properly (known as insulin resistance). 85 to 90 per cent of people with diabetes have Type 2. They might get Type 2 diabetes because of their family history, age and ethnic background puts them at increased risk. They are also more likely to get Type 2 diabetes if they are overweight. It starts gradually, usually later in life, and it can be years before they realise they have it. Type 2 diabetes is treated with a healthy diet and increased physical activity. In addition, tablets and/or insulin can be required.