View all news
Asylum seekers enjoy landmark moment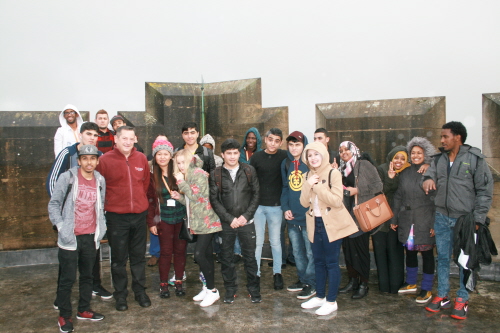 Press release issued: 20 November 2015
Bristol-based asylum seekers enjoyed a real landmark moment in the city yesterday [19 November] when they visited the University of Bristol's Wills Memorial Building.
City of Bristol College students on the ESOL (English for Speakers of Other Languages) programme, a number of them refugees from around the world, were extended two VIP visits to the iconic building at the top of Park Street.
The new UK arrivals, some from Syria, Somalia, Afghanistan, Nepal and San Salvador, have signed up to the College course to improve both their English and their prospects.
The ESOL programme incorporates external visits to the M Shed museum, the Harbourside, Cabot Circus and Bristol Magistrates' Court, as well as film screenings at the Watershed.
The two tours of the University's 215ft Wills Memorial Building, complete with talks from the University's Student Recruitment and International Offices, have been organised to further inspire the College learners.
Mark Detzler, an ESOL lecturer at the College, said: "The course caters for about 60 students, representing, on average, more than 20 nationalities and ethnic backgrounds, including Brazilian, Syrian, Somali, Polish, Turkish, Afghan, Nepalese and East Timorese.
"Some of our students are asylum seekers living here with carers, others have come from countries where they have faced marginalisation and hostility.
"We are passionate about giving our students not only the basics in English and maths but a wider experience of the UK, which encourages them to aim higher. This is often best done by bringing them into situations where they are able to go through doors which would usually be closed to them.
"There is very little expectation of them achieving at a higher level but visits such as this offers them something to aspire to.
"We have, on occasion, come across our former students at the University of Bristol, who sometimes return to share their experiences, and this is always inspirational. We're very thankful to the University in affording this opportunity to our learners, and we hope it can inspire them."
The entry level learners were treated to a tour of the building, including the Great Hall, the tower and its nine and a half-tonne bell Great George, by Gary Nott, the University's Senior Estates Assistant and Senior Tour Guide for the Wills Memorial Building.
Claire Axel-Berg, Head of the International Office at the University of Bristol, said: "As a University we're committed to encouraging people from all walks of life and hope such visits will inspire these students to consider higher education, whether here in Bristol or elsewhere. It's important to highlight these opportunities and to make them feel welcome in the city."
A second group of ESOL learners will be given their tour on Monday.
Further information
The University runs tours of the Wills Memorial Building to raise money for the Grand Appeal. Further details about the tours, including times and how to book, can be found online.