View all news
Environmental awards recognise Bristol's student engagement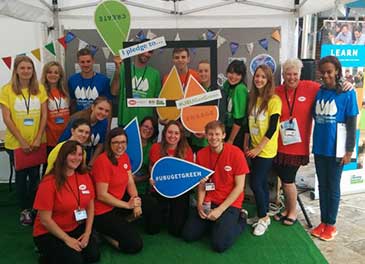 26 November 2015
Two University of Bristol projects are in the running for one of the UK's most prestigious environmental awards, due to be announced this evening (26 November).
The Green Gown Awards were established in 2004 to recognise outstanding work to improve environmental sustainability being carried out by universities and colleges across the UK. They aim to ensure that examples of good practice are shared within the further and higher education sectors and beyond.
The two University of Bristol projects among the 85 finalists are in the 'Student Engagement' category, which highlights the importance of students and staff working together to achieve goals and improve understanding and engagement across an institution. The winning entry will be put forward for the International Green Gown Award for Student Engagement.
The first project, led by Bristol SU and known as 'Learn, Act, Engage, Create', outlined a four-step approach through which students could engage in sustainability activities during their time at university and beyond. It was developed as part of 'Get Green' – Bristol SU's project supported by the NUS Student's Green Fund – and was critical in engaging over 10,000 students in 2014-15.
The second project, 'Green Capital, Student Capital: Unleashing the power of Bristol students', used a partnership between the University of Bristol and the University of the West of England. Working together, the universities, their student unions, the city and more than 800 local organisations harnessed the energy of students to deliver over 100,000 extra hours of volunteering work to help make positive and sustainable environmental changes. Supported by the Higher Education Funding Council for England, the project also helped to change perceptions of the student body and their role in the city, capturing the imagination of city leaders, businesses, communities and policy-makers.
The awards ceremony will take place at Brunel's Old Station as one the city's last events as European Green Capital for 2015. It will be hosted by Dr Andrew Garrad, Chairman of the Bristol 2015 Board of Directors, and streamed live on YouTube.
'I am delighted that, towards the end of our year as European Green Capital, Bristol is hosting the Green Gown Awards,' said Dr Garrad. 'They recognise the important role that academic institutions play in ensuring that young people have a proper understanding of both the challenges and the opportunities presented by sustainability.'
'Every year the Green Gown Awards rewrite what business as usual looks like for UK universities and colleges,' said Iain Patton, Chief Executive of the Environmental Association for Universities and Colleges. 'Sustainability makes business sense and this year's inspiring initiatives prove that sustainability benefits staff, students, the wider community and of course the bottom line. Congratulations to all the finalists for their hard work and we look forward to celebrating their successes.'