View all news
Student captures remarkable images of sea lions in the Galápagos Islands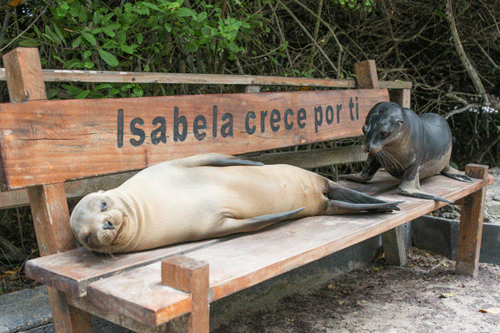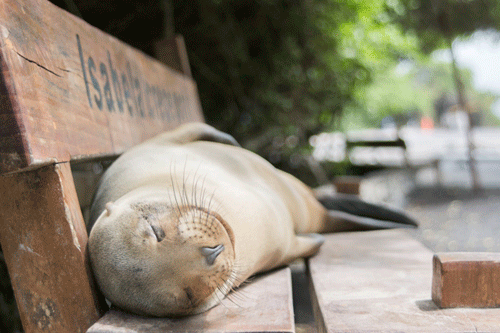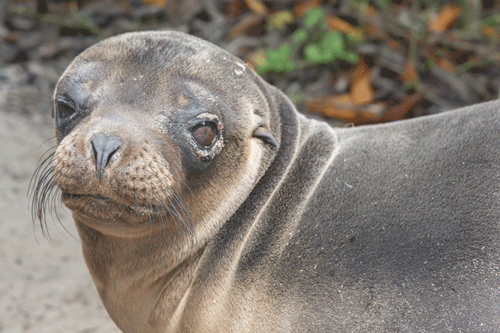 Press release issued: 8 May 2015
Sam Rowley, a second-year University of Bristol Biology student, captured these remarkable images of sea lions resting on waterside benches while visiting Isabela Island – the largest of the Galápagos Islands – as part of a trip to build a comprehensive portfolio promoting the beauty, uniqueness and fragility of the islands' wildlife.
Sam, who is also an aspiring wildlife photographer, said: "I've always been fascinated by the Galápagos islands' natural history, it's what inspired Charles Darwin's to muster his theory of evolution, and studying Biology at the University of Bristol has only made this drive more powerful.
"Visiting the islands was a dream come true, having had countless lectures on natural selection of Darwin's finches, it was awesome to see and photograph them in the flesh, along with the huge Galápagos tortoises, sea lions, sharks, iguanas and humpback whales. It's safe to say that the trip has supported some of the studies in my Evolutionary Biology module this year."
The images are of a group of sea lions comprising mothers and pups. The males were off on the beach, fiercely guarding their territories, while the females were left to look after the extremely mischievous pups further upshore.
The waterside benches, which are inscripted with the words 'Isabela crece por ti' translated as 'Isabel grows for you', are very popular with the sea lions.
Sam added: "Most of the benches were covered in sea lions and humans weren't given the choice for a sit down. The sea lions seemed to much prefer to rest on the benches than anywhere else and had lots of disputes over them.
"What's remarkable is how trusting they are, it's amazing for wild animals to feel so comfortable in your presence. When snorkelling, you'd often feel a nudge on your ankle and turn around to see a pup blowing bubbles in your face. They'd keep a lazy eye on you, purely because their pups were around. Even though we were no threat a mother can never be too careful."
More information on Sam's photography can be found on his website.