View all news
Take 48 students and a pinch of Salters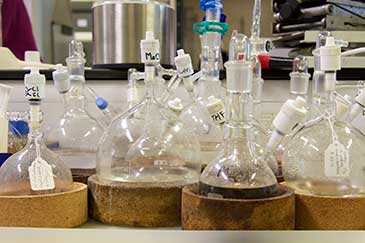 5 May 2015
Forty-eight students from 16 schools in the south west of England and south Wales will enjoy an exciting day of chemistry at the Salters' Festival of Chemistry, to be held at the University's School of Chemistry on Tuesday 19 May.
Each school will be represented by a team of four 11- to 13-year-olds. During the morning the teams will take part in the 'Salters' Challenge', a competitive, hands-on, practical activity called 'Trouble at the Salt Mine!', in which they will use their analytical chemistry skills. In the afternoon, they will compete in the 'University Challenge', a practical activity devised by the University in which participants will be required to use additional chemistry-related problem-solving skills. This will be followed by a fun lecture delivered by Bristol ChemLabS School Teacher Fellow Tim Harrison, involving extremely cold materials and several minor explosions of the type that characterises Mr Harrison's demonstrations.
The day will end with a prize-giving ceremony at which all participants will be given individual fun prizes and participation certificates and the winning teams will be awarded prizes for their schools.
The Salters' Festivals of Chemistry are an initiative of the Salters' Institute, whose aim is to promote the appreciation of chemistry and related sciences among young people, and to encourage careers in the teaching of chemistry and in the UK chemical and allied industries.
The Bristol event is one of a series of 49 festivals taking place at universities and colleges throughout the UK and the Republic of Ireland between March and June 2015.
The festivals are run in partnership with the Royal Society of Chemistry.
For more information on Bristol's event, please contact t.g.harrison@bristol.