View all news
People's Pier Project to study Clevedon Pier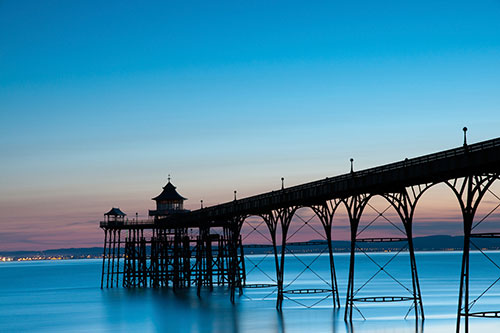 Press release issued: 1 May 2015
Clevedon Pier in North Somerset will be part of a new study, involving historians from the University of Bristol, into Victorian seaside piers and how they fit with today's society.
The People's Pier project, led by the University of Brighton, aims to investigate how piers are changing from simple pleasure palaces with gambling machines and rides to hubs for hosting community events, including pop-up cinemas and music and food festivals.
The research will concentrate on two piers: Clevedon Pier and Hastings Pier in East Sussex. The Arts and Humanities Research Council (AHRC) is providing £48,000 for early career researchers to help with the project which starts in May and runs for ten months.
Dr Olu Jenzen, Senior Lecturer in Brighton's College of Arts & Humanities and lead researcher, will be working with community groups including the Clevedon Pier and Heritage Trust and the Hastings Pier Charity.
The Clevedon Pier and Heritage Trust raised the funds to help rebuild and repair the 1869 Pier between 1984 and 1998 after its partial collapse in 1970. It is currently constructing visitor facilities with grants from the Heritage Lottery Fund and Coastal Communities Fund, amongst others, and is about to launch a community share issue to raise the remaining £350,000 needed to complete the project. Clevedon Pier is the only operational Grade I listed pier in the country.
Dr Nick Nourse of Bristol's Department of History, who is also involved in the project, said: "The people of Clevedon are right to be proud of their pier; it is a beautiful reminder of Victorian engineering and the then new concept of leisure. And although the pier itself remains largely as it was when it opened in 1869, leisure, and how the pier has accommodated leisure activities has changed many times since.
"This project seeks to update some of that story, concentrating in particular on the post-war era when the pier was home to a new, excitable and young community that danced to records played on a Wurlitzer jukebox and played pinball and the slot machines. Unlike our Victorian ancestors, that community is still with us today, and we will be organising events with the Clevedon Pier Trust that will gather and preserve the pier's unique and varied history."
Dr Jenzen said: "The project will enable the University of Bristol to forge collaboration with the Clevedon Pier and the project's focus on popular culture aims to help populate the new visitor centre.
"The University of Brighton has since 2001 played a key part in the education-led regeneration of Hastings and, with one of its campuses located in Hastings, it is well placed for this research project.
"The primary aim is to develop an understanding of how seaside pleasure pier culture converges with, engenders and sometimes resists twenty-first century community-led approaches to the economic regeneration of British seaside resorts.
"Due to their exposure to seawater and storms our nineteenth century piers, with their iron and wood constructions, are often financial liabilities. But piers are more than just metal and wood, more than treasured architectural landmarks – they are lived experiences shaped by the mood of the time and the socio-cultural make up of their location.
"It is important to gain an updated understanding of 21st century pier culture. This includes more in-depth knowledge about how seaside piers as popular culture and leisure spaces converge with new usages such as those introduced with the concept of the community pier."
Dr Jenzen will be collaborating on the project with academics from the universities of Bristol, Edinburgh and Kent. She added: "We hope our research will show the strengths and challenges of running pleasure piers as community-ownership enterprises that other coastal communities who are looking to safeguard their piers from dereliction can benefit from.
"We hope to contribute to innovative ways of using pleasure piers as urban community spaces, and to establish how the community pier and its popular culture heritage can be utilised to build positive relationships across different groups and empower the community."