View all news
Discover the real beef about meat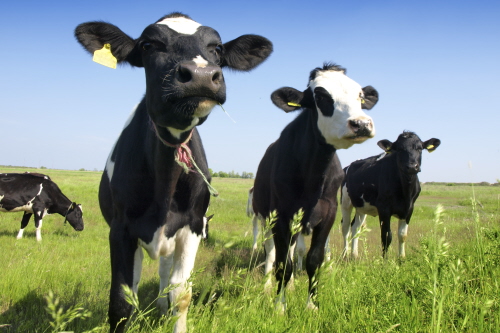 Press release issued: 29 June 2015
With the average cow producing 1000 times more methane than a human, meat production plays a big role in greenhouse gas emissions. But in a world where there's a growing appetite for meat, how can our food system keep everyone happy while reducing its environmental impact?
A farm in the Westcountry is aiming to answer this dilemma, with the help of academics from the University of Bristol, by merging technology with traditional farming methods to demonstrate the contribution sustainable grazing of cows and sheep can make to Britain's food security.
Members of the public will be able to explore this 'model farm' – the first of its kind in the world – at the Royal Society Summer Science Exhibition in London, running from Tuesday 30 June to Sunday 5 July.
It's one of 22 exhibits at the annual display of the most exciting cutting-edge science and technology in the UK. The week-long festival is an opportunity to meet scientists, try some of the hands-on activities or attend some inspiring talks and events.
At 'The Real Beef about Meet' exhibit, visitors will have the opportunity to become a virtual farmer using a bespoke computer simulation, see a cow's eye view with Cow-Cam and design a cow's diet to reduce methane emissions. Bristol University is putting on the exhibit in collaboration with Rothamsted Research and the Universities of Exeter and Reading.
Rothamsted Research's North Wyke Farm, in Okehampton, Devon, is funded by the BBSRC and boasts three herds of 30 beef cattle on 250 hectares of land.
With state-of-the-art technology in fields and labs, researchers measure the effects of farming methods on pasture, greenhouse gas production, animal health and nutrition, and the quantity and quality of meat produced.
Rothamsted Research's Farm Platform at North Wyke is part of the Global Farm Platform, led by Professors Mark Eisler and Michael Lee from Bristol University's School of Veterinary Sciences, which aims to optimise grazing livestock production systems internationally.
The Global Farm Platform is a unique international network of researchers and facilities working together to improve the sustainability of ruminant livestock production to benefit the environment, social wellbeing and livelihoods, human nutrition and health, and animal health and welfare.
Professor Michael Lee, Head of Site at North Wyke and Reader in Sustainable Livestock and Food Security at the University of Bristol, said: "Our participation in the Royal Society Summer Science Exhibition is the perfect forum for us to inform the public on what sustainable agriculture really means and what it should deliver. It is also an ideal opportunity for us to gain a consensus view on the pluses and minuses of livestock production from the public.
"Likely benefits of designing environmentally optimal livestock grazing systems may include the reduced need for fertiliser application, increased production and nutritional quality, low gas emissions and the support of biodiversity and the provision of ecosystem services. There are, of course, possible trade-offs associated with designing livestock grazing systems which need consideration and discussion."
Further information
About the North Wyke Farm Platform
The world needs innovative solutions for the sustainable intensification of its major agricultural systems. The North Wyke Farm Platform represents a large investment by BBSRC in the future, to not only study but also improve grassland livestock systems in a national and global research asset linked to real-world farming.
The Farm Platform is a world-class facility and a key member of the Global Farm Platform which attracts researchers from different communities and disciplines seeking to develop sustainable ruminant production systems.
About the School of Veterinary Sciences at the University of Bristol
The School of Veterinary Sciences is situated at a dedicated 255-hectare site on the edge of the rural Mendips in the village of Langford, 14 miles south of Bristol. It offers three undergraduate degrees and one taught Masters programme, with postgraduate research opportunities and certificate-level courses also available. All are delivered by academics who publish research regularly and share their cutting-edge research activity through their teaching.
Its academics are leaders in their field, whose research helps inform national policies that can lead to developments within veterinary practice. The Vet School also offer a number of commercial services that are strongly linked to our research output, from the Langford Abattoir to diagnostics services.
About Rothamsted Research
Rothamsted Research is the longest running agricultural research station in the world, providing cutting-edge science and innovation for nearly 170 years. Its mission is to deliver the knowledge and new practices to increase crop productivity and quality and to develop environmentally sustainable solutions for food and energy production. Its strength lies in the integrated, multidisciplinary approach to research in plant, insect and soil science.
Rothamsted Research is strategically funded by the Biotechnology and Biological Sciences Research Council (BBSRC). In 2013-2014 Rothamsted Researched received a total of £32.9 million from the BBSRC.
About BBSRC
The Biotechnology and Biological Sciences Research Council (BBSRC) invests in world-class bioscience research and training on behalf of the UK public. Its aim is to further scientific knowledge, to promote economic growth, wealth and job creation and to improve quality of life in the UK and beyond. Funded by Government, BBSRC invested over £484 million in world-class bioscience in 2013-14. It supports research and training in universities and strategically funded institutes. BBSRC research and the people they fund are helping society to meet major challenges, including food security, green energy and healthier, longer lives. Its investments underpin important UK economic sectors, such as farming, food, industrial biotechnology and pharmaceuticals.