View all news
Sheep ensure Downs remains in public hands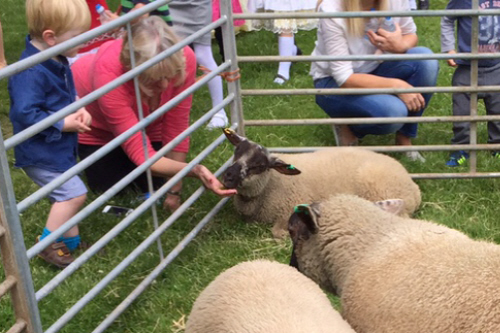 Press release issued: 16 June 2015
It's the Year of the Sheep, and Bristol will soon be hosting the Shaun in the City public arts trail - but it was a little surprising to see real sheep grazing on the Downs yesterday. The University of Bristol, along with residents and school children, invoked their ancient right to graze sheep on Durdham Down to fend off developers from the land.
It's thanks to a special Act of Parliament passed in 1861, giving commoners a right to graze and to protect it as a public place of recreation.
The act provided protection for the whole area as a place of public recreation, prohibiting damage to trees and plants, horse drawn wagons, bath chair hire, fortune tellers and stone throwing.
But it's only by grazing their sheep every five years that the commoners make sure of an absolute right to keep all 122 acres as common land.
Historically hundreds of sheep were grazed on the Durdham and Clifton Downs and until 1925, when the growing threat from motor vehicles made life increasingly hazardous for the sheep, Durdham Downs Commoners employed a full time shepherd.
Around 150 pupils and staff from St John's Primary School and Badminton School will be at the event, learning about local history and finding out how to look after farm animals.
The University of Bristol, one of 18 'commoners', arranged for six sheep to be brought to Durdham Down from Long Ashton.
Alan Stealey, the University's Head of External Estates, said: "With Bristol being European Green Capital 2015 and the Shaun in the City trail about to get underway in the city, there's never been a more significant time to exercise our grazing rights.
"Bristol's proud of its green spaces and it's thanks to historic acts such as these that so many have been retained, preserving the rich biodiversity that makes up our city."