View all news
Nocturnal airing for musical research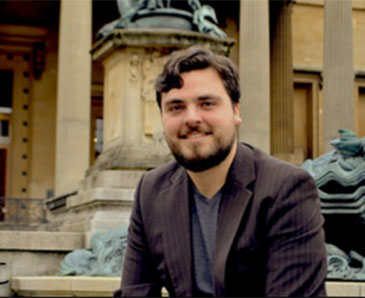 18 June 2015
Research by Arthur Keegan-Bole, a PhD student and assistant teacher in the University of Bristol's Department of Music, will feature on Resonance104.4fm in a two-part broadcast to be aired on Tuesday 23 and Tuesday 30 June at 8pm.
Keegan-Bole made a 10-minute podcast about his research as part of Critical Waves – a project devised by Birkbeck College School of Arts and delivered in partnership with the Institute of Contemporary Arts (ICA) and Resonance104.4fm – which aims to inspire creative approaches to research.
Thirty-five postgraduate research students and early career researchers were invited to attend a series of events and workshops to prepare them to develop their research into radio content. Participants were encouraged to explore radio's potential in academic research, asking what it means to have a voice, create an audience, find new ways to spread ideas and communicate them in an engaging way. Nine of the resulting podcasts, including Keegan-Bole's, were selected to be broadcast in the Critical Waves programme on Resonance104.4fm, a London FM radio station that also airs online.
Keegan-Bole's podcast features his composition Nocturne, written while he attended a Worldwide Universities Network Research Mobility Programme in the US. The piece includes a 'lullaby' section inspired by the Shipping Forecast and an eerie soundworld drawing on the Greenwich Time Signal 'pips', the hourly markers broadcast on BBC radio stations.
Find out more and listen to the podcast here.