View all news
Bristol talks to London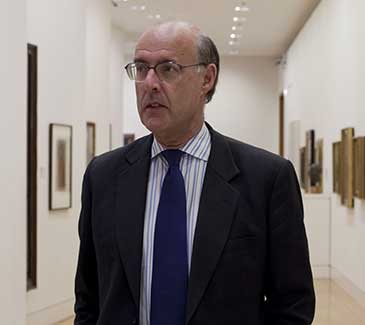 26 June 2015
Eminent modern historian Professor Sir David Cannadine delivered a lecture on Sir Winston Churchill's unique relationship with the University of Bristol to an invited audience in London earlier this month. The lecture was the second in a series of new events entitled 'Bristol Talks' that are held in London.
Around a hundred delegates, comprising academics, Bristol alumni, honorary graduands and Churchill family members, gathered at the Churchill War Rooms to hear Sir David Cannadine FBA, Dodge Professor of History at Princeton University, offer new insights into Churchill's time as Chancellor of the University from 1929 to 1965 – a relatively unsung aspect of the politician's career.
The event was also part of a range of activities hosted by the University throughout 2015 – the year that marks the 50th anniversary of Churchill's death – to explore the politician's life, work and achievements. Events have included the Churchill 2015 lecture series, and form part of a wider national programme of commemorations under the banner Churchill 2015.
Attendees included Churchill's grand-daughter Celia Sandys and great-grandson Randolph Churchill, as well as the distinguished historian Professor Linda Colley, a Bristol alumna and honorary graduand. The session was introduced by Professor Ronald Hutton of Bristol's Department of History, who described Churchill as 'arguably the greatest Englishman of all time, and certainly the greatest ever connected with Bristol University'.
The lecture was based on fresh research into Churchill's association with the University, conducted especially for the 2015 commemorations. Winston Churchill's attitude to higher education was complex. He had never been to university himself, and part of him always regretted this, even as another part of him was always wary of intellectuals and academics. Despite his initial reluctance, and what was deemed an unexpected and unusual appointment at the time, Churchill agreed to become Chancellor of the University of Bristol in 1929. His tenure was a huge success and, in the years of his greatness and fame, he made many influential speeches at universities and colleges in Western Europe and North America.
Among the anecdotes that pepper Churchill's 36-year tenure at Bristol University took place on 13 December 1929, after the ceremony installing him as Chancellor, when he joined in the student RAG. He was carried through the streets on their shoulders, taken to the Victoria Rooms – home to the Students' Union at the time – and took part in a performance where he was arrested, tried and imprisoned. (You can watch news footage of the event online.)
Delegates at the recent talk were also treated to an exhibition of archive materials and had an opportunity to explore the Churchill War Rooms.