View all news
Bristol alive with the sound of music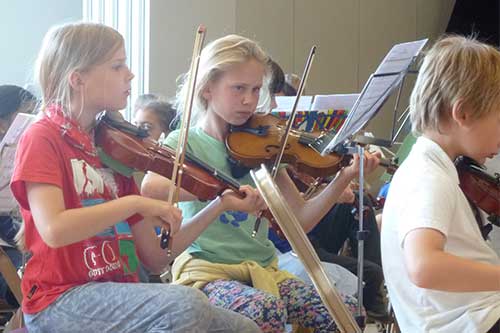 Press release issued: 23 June 2015
The University of Bristol Student's Union (Bristol SU) will be buzzing with the sound of music when over 100 local primary school students take part in an orchestra workshop today [Tuesday 23 June].
The Bristol Plays Music workshop, in partnership with the University of Bristol and BBC Ten Pieces project, will be led by Phil Dixon, a teacher of music and music technology and composer-in-residence from St Mary Redcliffe and Temple School and University of Bristol alumnus (MA 2002).
The BBC Ten Pieces project, launched in autumn 2014, aims to inspire a generation of children to get creative with classical music and encourage them to develop their own creative responses to the pieces through music, dance or digital art. The project culminates in two Ten Pieces Proms at the Royal Albert Hall next month [18 and 19 July].
Mr Dixon, together with eight University of Bristol trainee (PGCE) music teachers, will be working with the schoolchildren on three of the Ten Pieces - Grieg: In the Hall of the Mountain King from Peer Gynt; Holst: Mars from The Planets and Stravinsky: The Firebird ­ suite (1911) (Finale).
The afternoon workshop will finish with a final mini concert for parents.
Dr Marina Gall, Head of PGCE Music at the University of Bristol's Graduate School of Education, said: "Music enables a diverse range of young people to engage and fulfil their creative aspirations. Bristol is one of the UK's most musical cities and the workshop is a great opportunity for children to come together to play music and, most importantly, to have fun."
Laurie Stewart, Vocal and Instrumental Strategy Manager at Bristol Plays Music, added: "We are thrilled to be working in partnership with the University of Bristol to champion the BBC Ten Pieces project. Teachers and pupils from the participating schools have been working incredibly hard to develop the musicality of their instrumentalists, and this event will offer a high-quality, hugely memorable experience for them to play as part of this uniquely sculpted orchestra."