View all news
UK's first independent research to monitor fracking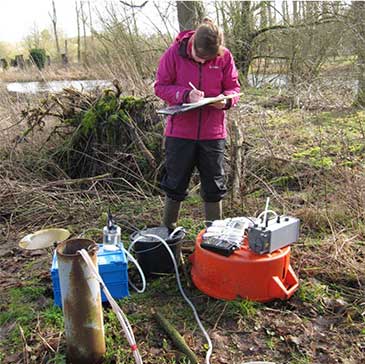 Press release issued: 15 January 2015
Two University of Bristol academics are part of a UK consortium, led by the British Geological Survey (BGS), which will carry out research at two proposed hydraulic fracturing ('fracking') sites in Lancashire.
As part of this enhanced research programme, groundwater, regional air quality, seismicity and ground movements will be independently monitored during fracking, subject to planning approvals at the sites, by the BGS with its university partners Birmingham, Bristol, Liverpool, Loughborough and Manchester.
This work is different from the operator's own monitoring and that required by the regulator. It is designed to enhance the scientific understanding and knowledge of the effects of shale gas operations on the environment and support peer reviewed science.
This ground-breaking research will provide the UK scientific community, with unique real time data from a shale gas operation over its whole life cycle – before, during and after hydraulic fracturing has taken place.
All results of the research will be open and made freely available to the public.
Cuadrilla, an independent UK energy company, currently has two planning applications for sites at Preston New Road and Roseacre Wood before Lancashire County Council and intends to commence shale gas exploration if these are approved.
Professor John Ludden, Executive Director of the BGS, said: "This ground breaking research will provide new scientific insight and innovative ways of monitoring the environment impact of shale gas development."
Professor Rob Ward, Director of Groundwater Science at the BGS, said: "Hydraulic fracturing of shale rock is a new activity within the UK which, as with any subsurface industrial activity, will induce changes. A programme of research that will involve monitoring before, during and after the operations will provide valuable scientific information."
The consortium research team includes Professor Michael Kendall and Dr James Verdon of the University of Bristol's School of Earth Sciences.