View all news
New trees to be planted across Bristol as part of University's European Green Capital pledge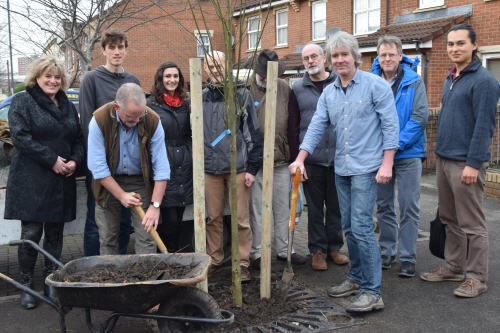 Press release issued: 18 December 2015
Tree stumps across the city are being replaced by new and healthy trees as part of a £60,000 pledge by the University of Bristol. This project, supported by Bristol City Council, will enhance Bristol's urban environment and contribute to the city-wide legacy of European Green Capital 2015.
Representatives gathered in Easton to launch the scheme, where two tree stumps on Bloy Street have been replaced by katsura trees, Cercidiphyllum japonicum – also known as a candy floss tree due to its distinctive sweet sugary aroma in the autumn when its leaves turn a rich orange colour.
Sixty sites for replacement trees have been identified across the city by a team of student volunteers from Bristol Hub, and planting will take place over the winter months.
Six priority areas, which would most benefit from additional tree cover, were chosen in partnership with the Bristol Tree Forum and Bristol City Council. These are Ashley, Easton and Lawrence Hill; Filwood, Knowle and Windmill Hill; Greater Bedminster; Greater Fishponds; Horfield and Lockleaze; and St George.
Professor Judith Squires, Pro Vice-Chancellor (Education) and Chair of the University of Bristol's Sustainability Steering Group, said: "We've been working closely with the Bristol Tree Forum and the Neighbourhood Partnerships to identify areas which will really benefit from new trees.
"We wanted to do something which would leave a lasting legacy after European Green Capital 2015 and felt improving the city's tree canopy was the perfect way to achieve this. Not only will the trees be in place for many decades to come, improving the environment for everyone, but the project has been a great example of our students and staff working with the local community to make a real difference."
The University helps maintain some of the 450 parks and open spaces in Bristol and has more than 7,000 trees within its grounds.
George Ferguson, Mayor of Bristol, said: "This is a hugely welcome investment by the University of Bristol in its own city, and I am delighted that we are working with them to increase Bristol's tree canopy.
"Alongside my flagship 'One Tree Per Child' initiative, which has caught the imagination of other cities, this project will help make Bristol a greener, healthier and more pleasant place to live, and I am delighted that it is getting underway before the end of our year as European Green Capital."
The three-year project is being run with the help of the Bristol Tree Forum, which works in partnership with Bristol City Council and other organisations to protect and enhance urban trees in streets, parks, gardens and all open spaces across Bristol.
The second phase of the scheme, taking place in 2016 and 2017, will see trees being planted in brand new locations. In the long-term, it's hoped the project will lead to the creation of a Bristol Tree Walk, as part of the Know Your Bristol website, giving further information on the tree species, history and value for wildlife.
Trees are extremely important in an urban environment. They reduce air pollution, flooding, traffic noise, the urban heat island effect, and atmospheric CO2, and increase biodiversity, as well as being visually appealing.