View all news
Wear your woollies for Christmas world record attempt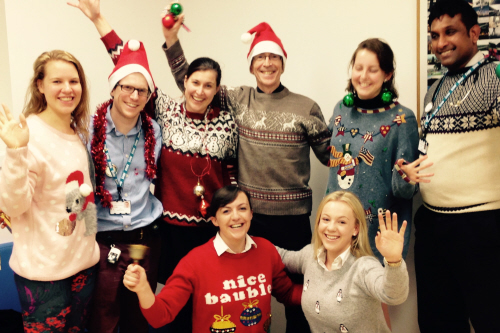 Press release issued: 9 December 2015
Over 1,000 people are expected to don their Christmas jumpers and help Bristol enter the records books this Friday [11 December]. People from across the city are being urged to gather in Royal Fort Gardens, just off Tyndall Avenue, to help break the Guinness World Record for the most people wearing Christmas jumpers in one place.
The colourful gathering, which takes place from 1pm, is being organised by Above & Beyond – the charity which raises money for Bristol's city centre hospitals – in partnership with the Above & Beyond Galenicals student medical society at the University of Bristol.
Staff and students at Loughborough University helped to set the current record of 1,175 people gathered in festive knitwear last year, and it's hoped that Bristol will be able to surpass this total with the help of students, staff from the Hospital and University, and the public.
Medical student Olivia Byrom, one of the organisers, said: "Everyone's welcome to join us on Friday, all they have to do is turn up in their favourite festive knit and be counted before posing for a photo.
"We're expecting lots of people from both the Hospital and the University but would urge people from across the city to come along too. It's literally a case of more the merrier as we try to break the world record and raise some money for Above & Beyond. Plus it promises to be a fun spectacle as everyone gathers in their bright Christmas outfits."
Fundraisers from Above & Beyond will be collecting donations towards the last £1 million needed for its Golden Gift Appeal to transform the Bristol Royal Infirmary (BRI) and Bristol cancer centre, the BHOC.
All money raised will go towards projects that are above and beyond what the NHS can provide; including for a world-class intensive care monitoring system, new individual rooms for patients and family rooms for their loved ones.
Professor Guy Orpen, Deputy Vice-Chancellor at the University of Bristol, will be joining the festive fun and was keen to lend his support as he's also a Non-Executive Director for the University Hospitals Bristol NHS Foundation Trust (UHB).
He said: "I know people from across the University are looking forward to Friday and what promises to be a fun and memorable occasion. Let's all join forces to get Bristol into the record books and lend our support to Above & Beyond, which does such a fantastic job supporting our local hospitals."
Further information
Join the event on Facebook and help spread the word to your friends in Bristol.