View all news
Boxworks opens for business at Engine Shed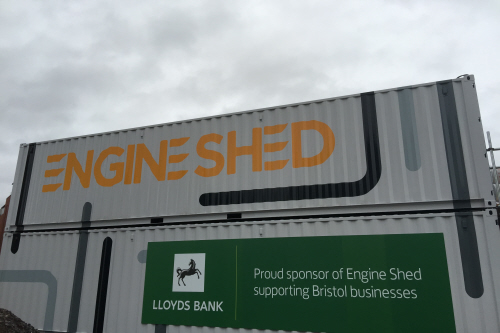 8 December 2015
A ground-breaking new workspace for local creative, digital and high-tech industries in Bristol has opened. Up to 120 new occupants will be accommodated in Boxworks - a custom-designed complex of shipping containers, which was officially launched on the two-year anniversary of Engine Shed.
It represents a 30 per cent expansion and reflects the success of the growing business hub, acting as a stepping stone to future expansion within the Enterprise Zone at Bristol Temple Meads.
Engine Shed, a collaborative project between Bristol City Council and the University of Bristol, contributed £7 million to the economy and reached full occupancy within 12 months of opening.
It houses the University's Bristol SETsquared Centre, which was recently named as the best university business incubator in the world and is also supporting a record number of businesses.
Nick Sturge, Director of Engine Shed and the Bristol SETsquared Centre, said: "This marks an exciting point – not only for Engine Shed but also for the Enterprise Zone. This 30 per cent increase in capacity within the Engine Shed 'campus' is a stepping stone to our permanent expansion, which we are actively working on now.
"We are delighted to welcome another 20 enterprises to our community and are particularly pleased that we have been able to support a social enterprise hub in the space – it is important for us to help facilitate learning between not-for-profit and for-profit enterprises."
Boxworks will run for up to two and a half years. It has been designed, built and will be operated commercially by Forward, one of the leading operators of shared workspace in the UK. Services will be provided by Engine Shed, including access to the Engine Shed Business Lounge.
Gavin Eddy, CEO of Forward, said: "Boxworks is designed to be different – inside and out. Not only is it a great location but the space is eye-catching, flexible, affordable and fun. It is a diverse community of start-ups, early stage small businesses and those requiring grow-on space. Boxworks reflects the breadth and ambition of businesses emerging in Bristol."
Although Boxworks will not be a permanent installation, it is part of the strategic vision for the regeneration of the Enterprise Zone in Bristol, creating employment space for businesses that will benefit the wider West of England.
The enabling of Boxworks has been sponsored by Lloyds Banking Group. Jen Tippin, Managing Director of Retail Business Banking, said: "We know that having affordable office space in the early stages of any business is crucial to its success, so we're proud to support Engine Shed."
This development will address part of the shortage of affordable, flexible and curated workspace before the second phase of Engine Shed opens, with funding from the West of England LEP in late 2017.
Further information
About Engine Shed
Engine Shed is a collaboration between Bristol City Council, the University of Bristol and the West of England Local Enterprise Partnership at the heart of Temple Quarter Enterprise Zone. Its mission is to stimulate long term economic growth by supporting business, inspiring young people to get involved and to showcase to the public and potential inward investors the exciting opportunities that exist in Bristol.
The building, formally opened by the Rt. Hon. Greg Clark MP on 2nd December 2013 after a £1.7m refurbishment program, houses a number of exciting components.
By uniquely co-locating a number of related entities and operating a central Business Lounge which brings together academics, entrepreneurs, business leaders and policy makers, in a high-profile, iconic building next to a mainline train station, the project is of global significance.
About Bristol SETsquared
The Bristol SETsquared Centre, now located within Engine Shed in the heart of Bristol's Temple Quarter Enterprise Zone, supports 64 members who between them employ over 840 people globally. Since 2007, companies supported by Bristol SETsquared have raised over £188 million and an aggregate turnover, in that period, of over £155 million. It has contributed to the success of Engine Shed, which opened in December 2013 and is credited with powering economic growth in Bristol and the West of England, adding £8 million to the local economy in its first year.
SETsquared is a long-standing partnership between the universities of Bath, Bristol, Exeter, Southampton and Surrey which specialises in growing high-tech start-ups through its incubation programme and other business acceleration services. SETsquared provides mentoring, access to investors and corporate innovators and a wide range of industry experts through its network and training programmes.