View all news
Airbus Group gives financial support to female aerospace students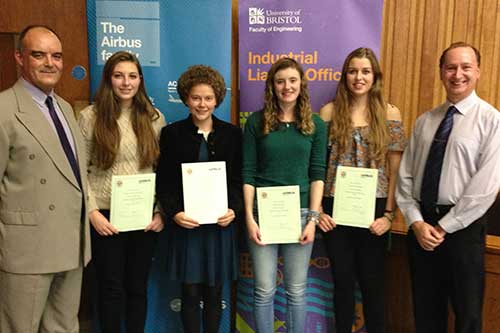 Press release issued: 9 December 2015
Four University of Bristol aerospace engineering undergraduates were presented with the Airbus Group Scholarship at an event held this term at the University. The scholarships were awarded to Kate Goldup; Kathryn Pugh; Megan Reynolds and Joanna Savage by Professor Ian Lane from the Airbus Group.
Airbus is a close industrial partner of the University's Faculty of Engineering and the scholarships forms part of an outreach and widening participation investment, with a particular emphasis on encouraging more women to take up STEM (science, technology, engineering and maths) subjects.
Professor Ian Lane, Airbus Group Senior Technical Expert said: ''We have been working very closely with the University of Bristol for many years on a variety of research and teaching projects. This year we decided to do something to specifically support women in engineering – and to make sure that the excitement and fascination of studying and practicing engineering can reach and inspire as wide a group of tomorrow's engineers as possible. I was delighted to meet these exceptional women and present the Airbus Group Scholarships."
Megan Reynolds, a scholarship recipient added: 'I am very excited and enthusiastic about the Airbus Group Scholarship and all it has to offer. I am particularly looking forward to the outreach project where it will not only give the young students a chance to understand the influence of engineering within society, but also to understand the importance of diversity within the engineering field, and why women are a very key element."
The Faculty of Engineering will host the first Airbus Aerospace Day next year [March 2016]. The aim of the day will be to engage Year 8 girls from schools in the Bristol area and promote aerospace engineering as an exciting and achievable career path. The day will include inspirational interactions with world-leading academics and industry experts together with many hands-on activities.
Professor Andrew Nix, Dean of Engineering at the University of Bristol, said: "Our partnership with Airbus goes from strength to strength. The initiatives this year to focus on women in engineering fully align with our aspirations to address the gender imbalance in this area and I look forward to the exciting outreach activities in the year ahead."
This year the University of Bristol signed a University Partnership Agreement with the Airbus Group at the Paris Air Show to formalise and build on the commitments from both parties for training, education and diversity.
Further information
About Airbus Group
Airbus Group is a global leader in aeronautics, space and related services. In 2014, the Group – comprising Airbus, Airbus Defence and Space and Airbus Helicopters – generated revenues of € 60.7 billion and employed a workforce of around 138,600.
About the Industrial Liaison Office
The University of Bristol's Industrial Liaison Office manages and develops relationships with the Faculty of Engineering's many industrial partners across a range of activities.
If you would like your company to get involved in working with the Faculty, please contact John McWilliams, Industrial Liaison Manager, email john.mcwilliams@bristol.ac.uk